You have made up your mind, and you are ready to make money through affiliate marketing; good for you. So now, we will look at the top 10 affiliate marketing sites for beginners.
It would be best to consider so many things to get started because you wouldn't want to start, and then you're struggling to get the needed result.
What to consider in Affiliate Marketing
Right now, your mind may be full of questions like, from where do I start? Which affiliate programs can you choose so I can start earning? These questions will lead us to the top 10 affiliate marketing sites for beginners.
The problem for beginners in affiliate marketing begins here—knowing which affiliate programs to start.
We have thousands of affiliate programs out there to choose from, and these programs all pay well. However, choosing the wrong program could cause a significant setback.
The first thing you have to deal with is the thought of looking for an affiliate platform that pays the most (highest paying platform).
That is a wrong mindset, a misconception that must be dealt with severely. Starting an affiliate business with this mentality is the wrong way to start.
This is also one of the fundamental mistakes many beginners in affiliate marketing make. Even some experts fall into this same trap.
Success in affiliate marketing is not about the money first but about finding your niche.
After finding your niche, look for an affiliate program that matches it.
One thing that will help you go far in the affiliate business is to be so sure about the product you are putting out there.
It has to be a product that you can easily recommend to your audience with a second thought.
They say value brings money. Understandably, you want to make money; I mean, that's the result of doing business, right?
But think of it this way and let this be your driving force: Give your audience the worth of their money.
Related article: How I Earn $1000 A Day Online – My 7 Streams of income for 2022.
Run after value first.
The main goal here is not even the money but to be an established brand because this is what attracts people to pay for your service.
When you share value, people see the quality of your content; through that, you're already getting their attention.
Focus on growing to become a giant in that niche you have chosen.
Gain your audience's trust.
Once they trust you, you've become their correct plug. They will buy your product even when they don't need it and recommend you to others. That way, money comes in quickly.
Be careful with what you say.
You must ensure you don't lose that confidence, that trust they have in you.
Be careful about your content. Don't discuss or create content outside your niche because they might lose interest in you.
Succeeding in Affiliate Marketing
Making money will be so easy when you meet your audience's needs almost always; when they rest assured that you have the solution they seek.
You will only enjoy doing this affiliate business when you do it the right way.
Affiliate marketing is one of the top industries in this tech age.
This is a business where some experts in blogging, digital marketers, make thousands of dollars monthly.
A blogger recently made over $349,000 just by selling one product. I guess it's an excellent source for earning passive income.
One vital thing to note is that all affiliate marketing programs are never and can never be the same.
You will encounter different problems when dealing with merchants, and it might happen that you'll have issues like:
Some merchants might send links to your home page. That action alone makes it so glaring that they don't know how to handle this stuff.
Malfunctioning tracking system for conversion and clicks, or a poor tracking system.
Sometimes, the merchants are ignorant of what affiliate marketing is. Some can't even differentiate between this style of marketing and others.
Poor payment terms are somehow common in affiliate business. Sometimes, it becomes so difficult for merchants to pay for legit referrals.
Top 10 Affiliate Marketing Sites For Beginners
Note that beginners' top 10 affiliate marketing sites are not the highest-paying affiliate programs.
Instead, these programs make it easy for you to do affiliate business as a starter.
Also, this list is not a detailed one because there are thousands of affiliate programs out there.
As a beginner in affiliate marketing, it's normal to feel uptight, that uneasiness that always comes with the desire to see results quickly.
Affiliate marketing business is not a get-rich-quick scheme. It involves a long process of clever work— a maximum of six months if you do it rightly—before you start seeing any tangible result.
Please don't give up after working yourself out in this business, as some do when building their blog. Don't get discouraged.
The affiliate archons are looking for a professional-looking site that is very active and well organized. Remember, they don't know you, so they must be convinced by what they see. I encourage you to start working on your website or blog for a minimum of three months. Do this before applying for the services of any of these programs below.
Let's dive into the top 10 affiliate marketing sites for beginners and the reasons why these affiliate programs are the best.
Amazon Associates network is one of the most preferred networks for beginners. Though it is not perfect, it's an excellent platform for beginners.
Amazon is a known e-commerce website globally. Amazon network is one of the most trusted and one of the world's largest e-commerce sites.
If you intend to sell any digital product, then amazon is the right place for you to sell. If you have an account with Amazon, you're almost there, and if you don't have one, go ahead and create one.
Amazon Associate Affiliate is also suitable for an incorporated business. All you have to do is to register with your company's information. However, one big problem with Amazon is that its affiliate programs are only limited to about 14 countries:
The United States, Canada, Brazil, Mexico, France, Germany, Italy, Spain, the United Kingdom, China, Japan, India, Australia, and United Arab Emirates.
So, if you are getting traffic from some other parts of the world, you must set up your link for that country. But, for easy management of your Amazon affiliate links, you can use the WordPress plugin AAWP.
With this plugin, you can easily create an Amazon link that works for each individual from different countries.
Impact affiliate network was founded in 2008. Former members of the staff of CommissionJunctionandsaving.com created it.
This network is a young affiliate network being founded in the millennium era. Impact affiliate platform has over a thousand merchants on its network.
To join the Impact Network is a bit technical, but being accepted by the merchants is an easy task once you've entered.
FlexOffers is also one of the largest affiliate networks, with over 12,000 merchants on its platform. They also offer the same program, just like the other affiliate networks. FlexOffers have a sub-affiliate platform that enables you to work directly with the merchants.
This means that FlexOffers also joins a merchant program as an affiliate to allow bloggers to use its affiliate link. When you decide to join the sub-affiliate platform, you have to divide the commission for each affiliate signup with FlexOffers.
The process of creating an account with FlexOffers can be a bit frustrating. The main reason for this is because it's a sub-affiliate. The FlexOffer platform is involved in conversion quality. In clearer terms, it is very selective when allowing affiliates on its network.
Nevertheless, as a starter, FlexOffers is still one of the best options— it is worth the effort. Just be sure your site is available and well-curated.
The Awin affiliate platform is rare because it's one of the most recently founded affiliate networks. It was founded in August 2017.
Awin is a merger of two affiliate networks. These networks were Zanox and Afilinet.
With over 8,000 merchants on its network, it has become one of the best affiliate program networks.
Awin is very easy to use. Their service is allowed in many countries, suitable for international visitors.
It is vital to note that merchants on this network are more interested in physical products than any SaaS or software.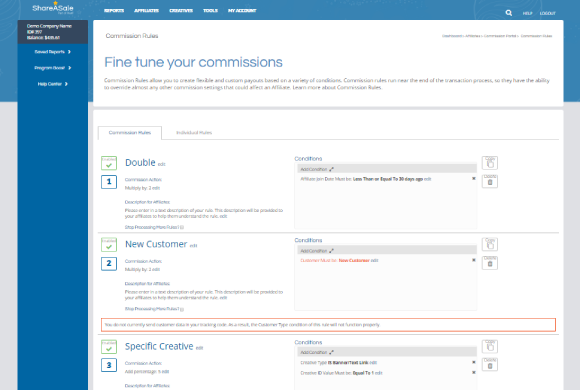 The Shareasale platform is also a part of the Awin network, and they also provide you with the best choice of merchants with which to work.
Shareasale affiliate platform has more than a thousand merchants that offer almost all services, from physical products to software services. It also focuses on internet marketing. Creating an affiliate account on this platform is very easy. You are also given access to data on conversions from existing affiliates.
The only problem here is the limited number of links from the merchants. With Shareasale, you will be able to know the effectiveness of the merchant you're working with, as it will provide you with all the details you need to know about the merchant you're dealing with.
Details like the conversion rate, earnings per click (EPC), average sales will be made available.
On the Fiverr platform, you are permitted to promote various services that contractors, bloggers, small business owners need for their own business. Interestingly, you can make up to $1,000 through referral.
Fiverr is an excellent marketplace for those with websites that offer various services. Though it's available on CJ, you should go directly for reasonable terms and functional relationships.
Commission Joint is the second oldest affiliate marketing program platform, popularly called CJ. It's a network and not an e-commerce platform like Amazon. Just like the other affiliate programs, CJ connects you to the merchants and helps manage your relationships for you.
This is an excellent platform for beginners because you don't need to work directly with the merchants. With over 1,500 merchants using CJ's service, focusing on various niches, it is one of the best platforms for any starter. This platform is highly recommended for beginners.
Registering with CJ is not too difficult. Once you're in, though, you have to register with some particular merchants.
The difficulty that comes with that process is largely dependent on each merchant. With some merchants, you might get instant approval, while some take days before they respond. Some will not even respond at all.
Skimlinks automatically creates links in your content. It also helps you create content without your involvement, which is also a good option.
Don't hesitate to join this platform. With over 24,000 merchants with various niches, this is not something on which to sleep. You can also insert links manually on Skimlinks.
On the Sovrn//Commerce platform, you're given the choice of CPC (cost-per-click) or CPA (cost-per-acquisition). Sovrn//Commerce automatically inserts links on your blog post using Google tag manager or WordPress plugin.
Making money on this platform does not involve much of your effort. Sovrn//Commerce does everything for you with almost none of your involvement.
Instead of using the automated feature, you can also use the Sovrn//Commerce link directly in your content. Another way to do this is by using Sovrn//Commerce on user-generated content, like a forum on your site, with vBulletin and PhpBB.
Clickbank is one of the most engaged affiliate marketing networks, well-known for its affiliate making millions of dollars every year.
Clickbank offers tons of affiliate programs with a high-paying commission. These programs range from sports and parenting to fitness and health, etc.
With Clickbank, you can sell to over 200 million people worldwide. There is a wide range of products you can promote on this platform.
You may also like to read, Shareasale Affiliate program tutorial: a step-by-step guide and tips to double your income.