The Amazon manage orders page provides a customizable view for all orders on all sales channels. You can view orders on amazon within a given date range or use the search box to filter specific types of orders. To view the page from the seller account, click orders, then click Manage orders.
You can use a manage orders tool to view the details of a selected order, such as the product, buyer, and shipping information. You can also carry out order-related tasks like print packaging slips and give out refunds.
It can be challenging to sell your products. But if you have good software for Amazon order management, things could be a lot easier for you. Amazon order management starts with a customer purchase and ends with the delivery of the product.
We all know amazon to be one of the world's most prominent online marketplaces, providing an incredible opportunity for sellers to build brand authority. It boosts revenue and presents its products to a large audience. If you have products to sell, you want to ensure that your brand is on Amazon's marketplace. Amazon order management is essential for a successful seller on the platform.
There are, however, challenges that you encounter with selling your product. Although you have a good product and can market it and get people to buy it, you are in the struggle with having to fulfill these orders yourself.
It is where the tools to manage order on Amazon come into play. As someone who has an online business to run, you can save time and money by automating most aspects of the fulfillment process. With many reports and information granted through the platform, it can be challenging to utilize.
What is Amazon order management?
It is the process of managing and fulfilling orders that come through the marketplace of Amazon. It starts with a customer purchase and ends with the shipping product. There are lots of challenges when it comes to selling your product. But with good amazon order management, things can be much easier for you.
The Amazon order management software helps customers automate the work they would have to do manually. It is most helpful if you use several platforms to sell your inventory. Rather than many open tabs, you will have all the information shown on a single dashboard.
With the amazon order management software, your inventory levels automatically. You do not have to adjust stock quantities as your business grows or shrinks manually. It also lets you integrate shipping carriers and send automated notifications. It makes sure your customers have an experience that is seamless each time.
RELATED ARTICLE: 7 Best Enterprise Ecommerce Platforms.
Vendoo: The #1 Software for Online Resellers
Start using Vendoo, and easily list on all of your favorite marketplaces. Keep track of listings, orders, inventory and grow your business.
How the fulfillment process to manage orders works
The order fulfillment process on Amazon begins with you. You enter your products into amazon through Amazon seller central, which is on their website for sale.
When someone places an order for one of your items on the site, You ship it to them with a local carrier making the delivery. When that person receives their item, they could leave feedback. Shoppers share how easy it was for them to receive and review their purchase in detail if they so desire.
By correctly utilizing the Amazon order management dashboard, business owners can ensure that their customers are consistently happy and take control of the ordering process.
Tools to manage orders through Amazon Order Management
If you are new to Amazon order management, it is essential to know the available tools. There is a list of some tools that you should know about.
1. Amazon order report
Through this tool, you will be able to automatically download all of the information that you require about the fulfillment of your orders in one document. You can either run one report at a time or schedule the program to give you continuous updates automatically.
This tool is accessible by sellers who fulfilled orders and will give the same information about their charges.

2. Amazon Manage orders
By clicking the manage orders tab, you can see the details of any orders you currently have. You can check the details of the products ordered, shipping information, the buyer's data, such as the contact, and more. You can also search for any specific order you are looking for, like previously shipped orders within a specific date or through a particular channel.
A customer may sometimes decide to cancel their order. If they do so, you will get a notification on the manage orders tab and can refund the purchase.
3. Amazon inventory software
With this, you can add products, change the pricing, and do any other inventory management tasks. It is an excellent way to track your inventory and sales with an interface that is easy to use. You will also save time by batching the product uploading process, which can take several hours if you carry it out manually.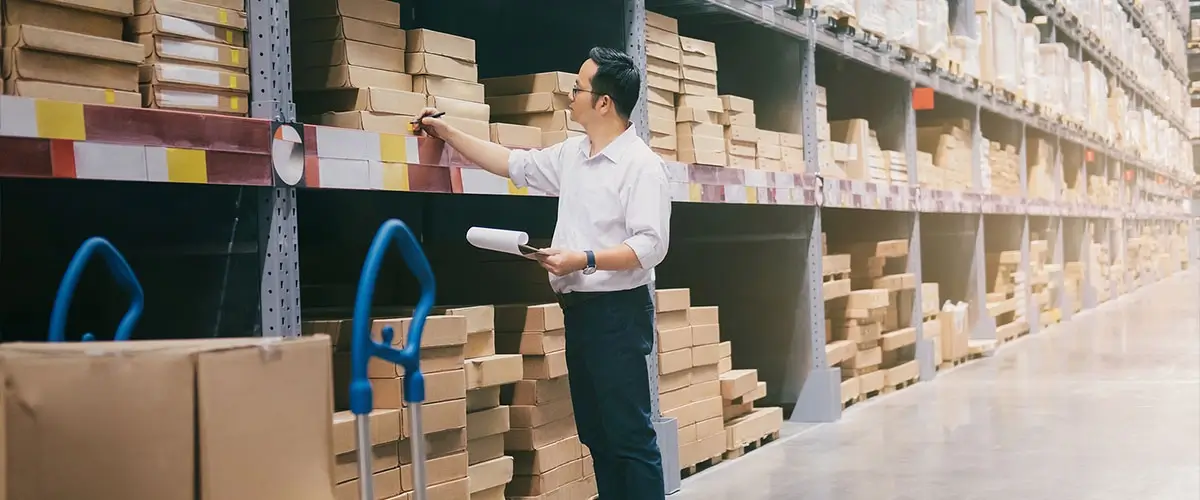 Vendoo: The #1 Software for Online Resellers
Start using Vendoo, and easily list on all of your favorite marketplaces. Keep track of listings, orders, inventory and grow your business.
Advantages of Amazon order management
It helps to increase sales and management of your business online. By providing all the required information in one area, you can track several orders simultaneously without taking the time to track them manually.
It helps you see all your orders and their status from a single place. It makes it easy to ensure you fulfill all your orders, irrespective of the sales channel. Also, suppose you need to check a charge, track delivery, or update a buyer. In that case, you can find all the necessary information about a particular shipment with a few simple clicks.
1. Increase in sales and profits
The benefits don't stop at just being able to track orders; with the use of amazon inventory software and a good customer support team, you have increased sales, profits, and reviews on products. Bing, an active seller on amazon, gives room for more exposure, resulting in more income opportunities.
2. Keeping your inventory consistent
You can make sales even if you cannot track and replenish your inventory. With the assistance of Amazon's order management software, you can optimize inventory tracking and have it up to date. You can also see the amount of profit you make from each product which makes replenishing easier.
3. Integrate with other platforms
Amazon can integrate with other platforms to help you take your order management to a different level. By combining your amazon order management software with other platforms, you can see the amount of inventory available, manage your workflow across multiple channels, and ensure customers have a wonderful experience.
4. Keep track of returns and refunds
It is a fact that some of your orders will come back to your as returns or refunds. With the help of amazon order management software, staying on track of what comes back and when it comes is more straightforward. You can monitor who ordered from which site to have overall protection against fraudulently purchased products that come back due to no fault of yours.
In conclusion, managing your orders on amazon helps you simplify several things as a seller, like managing your time and fulfilling your customers' needs. It also makes selling your products easy and seamless as the process is straight to the point.
You may also like to read our latest article, Effective Ways to sell on Instagram with Shopify.