Choosing one of the best online course platforms to share your skill or knowledge will catapult your career beyond the stars or make you a boatload of cash.
Do you have a skill, a tip, or a unique way of doing things that you want to share with people?
People are combing through the vast, daunting internet space for that thing and are more than willing to show their thanks for it by paying.
Online course platforms are the way to go. They link users searching for a particular technique or information (buyers) to the wielders of said knowledge (instructors, you).
What are online course platforms?
Imagine a classroom where you have the teacher and students. The point of schools—which are, of course, plagued with classrooms—is to disseminate knowledge from the relative few who have it to the many who don't. That is what online course platforms are; virtual classes eager for the instructor to share the information students require.
What are the 7 Best Online Course Platforms?
Searching for the perfect course platform that fits your needs and demands neatly can be a hassle, as there are so many out there in the ever-churning sea of the digital world, and it's all you can do to keep yourself afloat as wave upon wave of information knocks into you.
But don't worry, we have your back. Out of the depths, after combing through each one and viewing them from different perspectives, we've distilled the multitude to a mere seven:
Thinkific
Learnworlds
Kajabi
Teachable
Podia
Learn Dash
Ruzku
7 Best online course platforms to help share your skill with the world
1. Thinkific
My best choice for an online course platform to help me maximize profit would be Thinkfic, the best online course platform with a certificate. Started by Greg Smith in 2012, the online course platform has since grown enormously: in 2020 alone, over 63 million courses were taken on the platform.
Creating Your Course
When creating a course, their drag-and-drop editor helps you get started. Another nice feature is deciding whether you want your courses to be available to your students/buyers at once or in "drip." Should you choose the latter, Thinkific takes the customization one step further by allowing you to select which type of "drip" best suits you.
After uploading and editing your courses, the following simple step is selecting the theme you want your course website to have. This online course platform lets your creative mind soar with a large number of website templates to choose from.
And then, to close it all, you select the type of payment method you want—the online course platform allows you to collect payment in over a hundred currencies—and you're all set.
Key Features of Thinkific
Live Lessons and Cohorts: They let you interact with your students, disseminating your valued information and course contents to awaiting viewers across the globe in real-time.
Communities and Members: This lets your students link up and connect so they can learn together.
Website themes: With this feature, you don't need to have a degree in coding or designing to give your students an excellent-looking course website. It has a wide range of themes you can select from. So for each one you don't think fits, many others are just waiting for you to try.
Advanced customization: Thinkific lets you design your course website the way you think best.
Progress Tracking: Interested in knowing how well your students are learning and what areas they struggle with? This online platform lets you do just that.
Thinkific Pricing
Thinkific has four pricing options—Free, Basic, Pro, and Premier—allowing you to choose which package best suits your budget.
Free ($0):
This package is the best way to take Thinkific out for a test drive; minimal investment, minimal risk, so if you decide that Thinkific isn't for you, you wouldn't have to worry about the money spent—because there is none. This package allows you only one course but unlimited students and no transaction fees.
Basic ($39 per month):
Paying for this package allows you unlimited courses and unlimited students, a custom domain, and drip (schedule) content.
Pro ($79 per month):
The Pro pricing takes the features the Basic package would grant you and stacks a few more upon them, such as private courses, certificates, live lessons through Zoom, assignments for your students, and advanced HTML and CSS editing, plus memberships and bundles, and priority support.
Premier ($399 per month):
This includes all the features you'd find in the Pro package, as well as an unlimited growth package, onboarding package, and over 50-course admins.
2. Learnworlds
Just below Thinkific, I would place the online course platform Learnworlds. Learnworlds offers a unique way for your students to learn from you, which usually includes interactive videos and quizzes, giving your students a state-of-the-art interactive learning experience that will help the knowledge sink in faster and remain with them for a long time.
Features of Learnworlds
So what are the essential features of Learnworlds that drew me to select them as my number two?
Support from the Learnworlds team: Sometimes navigating through new and unfamiliar online course platforms (and it is true for anything new, really) can be challenging. Still, with Learnworlds, you don't have to worry about getting used to their interface alone, as their staff is eager to help with any questions you may have. There are how-to articles that cover assimilating smoothly with the online course platform, tutorial videos, and live chats with their support staff.
Assessments: Know just where your students stand regarding how well they understand your lessons and what parts they don't quite get with easy to create quizzes.
Synchronized Transcript feature: With this feature that Learnworlds offers, you get to track just what your students are doing and how far into your course they are, allowing you to keep a close eye on your students' progress.
Learning Community: This feature helps create a place for your students to unite and share thoughts, ideas, and knowledge, even ask questions and help them learn quicker and faster.
Mobile App Builder: Another great feature Learnworlds provides is the Mobile App Builder, allowing you to create an app for your courses.
Branded Digital Certificates: At the end of the day, it helps students have something tangible to showcase their achievements. Well, Learnworlds allows you to create and customize digital certificates for them to do just that.
Learnworlds Pricing
Starter ($24 per month, paid annually):
The first and lowest of the price packages Learnworlds offers allows you only one admin, has a $5 charge per course sale, unlimited courses, custom domain, drip-feed courses, coupons, 4 payment gateways, and a page builder tool.
Pro Trainer ($79 per month):
The Pro Trainer package grants you all the Starter's features, with a little extra such as no transaction fees, live classes using Zoom and WebEx, assignments, custom checkout pages, subscription and memberships, and affiliate management, and five admin accounts.
Learning Center ($249 per month):
This package gives you the Pro Trainer features, and in addition, flexible invoicing, premium support, premium account manager, and premium cloud servers and a branded corporate academy.
3. Kajabi
Kajabi specializes in email marketing automation, which goes a long way to helping when it comes down to pre-sale and upsells emails.
It even has a feature that assists you in creating your very own marketing funnel. This feature is called a "Pipeline." It also helps you create your marketing campaigns.
One example of the Pipeline feature is a "Freebie Pipeline." The Freebie Pipeline comprises three touchpoints: a landing page which informs visitors of your online course website about a free to download material (an ebook, for one) only made available once an email is given.
Upon submitting the email, the visitor is signed up to your freebie email service (which you use to upsell your course) and taken to a "Thank You!" page; should the visitor then decide to purchase your course, they are taken to yet another "Thank You!" page, and that's done.
Kajabi Features
Unlimited video hosting:
Kajabi allows you to upload as many course videos as your heart desires with no restrictions on the amount.
Quick publishing:
The online course platform lets you swiftly upload or publish to your course website with ease and without the worry of learning to code.
SEO-optimized:
Your courses  will pop up frequently in search results.
Website builder:
Create your course website quickly and easily without the barrier of a coding or designing experience.
Secure:
The online course platform truly values your data, keeping it under lock and key, away from prying eyes.
Course insights:
Kajabi allows you to check on your students' progress and grants you a clear view of their strengths and weaknesses.
Unlimited hosting:
Kajabi doesn't put a restriction on the number of course materials you wish to upload and your classes. It also has one-click marketing sequences, which allows you to promote your courses in a much easier fashion.
Kajabi Pricing
Basic ($119 per month):
The first and lowest packages allow you one website, one admin, three pipelines, three products, 10,000 contacts, and 1,000 active members.
Growth ($159 per month):
In this plan, kajabi keeps the number of websites at 1, but increases the admins to 10. Allows you to have 15 products, 15 pipelines, 25,000 contacts, and 10,000 active members.
Pro ($319 per month):
The third and last of the packages increases the number of websites allowed to 3 and lets you have 25 admins, 100 products, 100 pipelines, 100,000 contacts, and 20,000 active members.
4. Teachable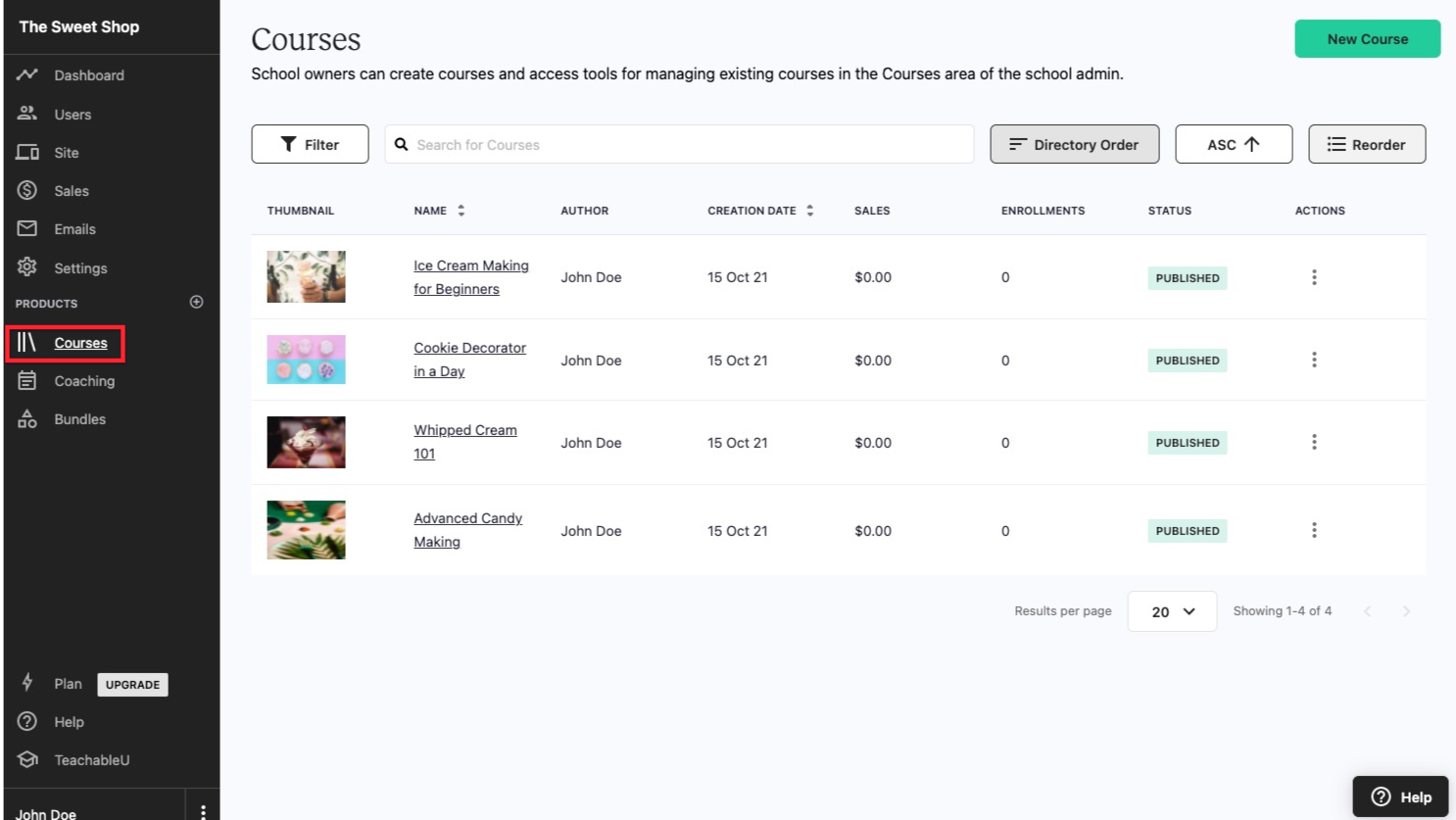 If you're new to creating online courses, then teachable is the way to go. With its easy-to-use interface and low price, it is the perfect tool for beginners dipping their toes into the pool of courses.
Key Features of Teachable
Teachable allows you to engage with your students across the globe live. The online course platform even enables you to host webinars from your Teachable account.
This online course platform also gives you the tools to easily design your sales page the way you want to, appealing to your prospects and encouraging them to buy your course.
Teachable lets you employ authors to help craft the best content for your courses.
Rest easy when it comes to your data security, knowing that Teachable allows you to "use payment methods that are PCI level-1 compliant".
Teachable Pricing
Basic ($29 per month):
Teachable's Basic package lets you have two admin users and enables you to make use of drip content, course builder, and members-only community. The transaction fee on this plan is 5%
Pro ($99 per month):
The Pro plan gives you features that can be found in the Basic package without the transaction fees. It also lets you have five admin users, course certificates, and advanced reports.
Business ($249 per month):
Business plan grants you the Pro features in addition to group coaching calls, bulk student enrollments, and advanced coding customizations and lets you have 20 admins.
5. Podia
Podia is a great online course platform that invests in digital downloads, allowing you to upload courses that include quizzes, images, MP3x, even PDFs, and more.
This online course platform even allows you to take payments before the launch of your courses and add memberships and coupons.
Podia Features
Drip content.
Special and efficient tools like social media integration, email marketing, and landing pages.
Instant payouts
Zero transaction fees.
The freedom to put up courses only available for enrollment for a limited period.
Pricing
Mover ($33 per month):
The initial and lowest pricing plans Podia has to offer, up to 5k sent per month, digital downloads, zero transaction fees, and lets you sell your courses.
Shaker ($75 per month):
Shaker plan gives you all that can be found in Mover, and in addition, it lets you add affiliates, creates membership communities, and has 15k emails https://jdsquad.com/build-email-list-2022-free/ sent per month.
Earthquaker ($166 per month):
The Earthquaker plan lets you have everything in Shaker and a dedicated account manager, 50k emails sent per month, and personalized onboarding.
6. LearnDash
LearnDash is a little different from the others listed above as it is not strictly an online course platform on its own but rather a plug-in for WordPress. This does not diminish its features; the plug-in is so popular and effective that it is even used by the University of Michigan, InfusionSoft, and WPElevation.
LearnDash Features
Focus Mode:
Your students can say goodbye to distractions with this helpful feature, which blocks them effectively, helping them learn with ease.
Gradebook technology:
This feature helps provide an overall grade for your students on the quizzes and other activities you've given them, letting you review and decide what areas they need help with.
LearnDash also lets you award badges and certificates to your students for course activities.
Pricing
Basic ($159 per year):
The basic plan gives you unlimited courses, Users, drip-deed lessons, advanced quizzing, certificates and badges, course forums, email notifications, and free integrations. Indeed, all the pricing plans give you these features, with the only difference being how many site licenses you are allowed. The Basic package only allows you 1.
Plus ($189 per year):
As said above, the Plus plan lets you have all the features in the Basic plan but gives you additional nine site licenses, which means it allows you up to 10 site licenses, and it includes ProPanel.
Pro ($329 per year):
This allows you 25 site licenses and includes ProPanel.
7. Ruzuku
Ruzuku is great for instructors who want their courses in a step-by-step format, including PDFs and text.
Features of Ruzuku
One fantastic feature of Ruzuku is the students really get to interact with you. The online course platform allows them to post questions on particular areas of your courses and sends you an email notification when they do.
Ruzuku lets you copy and reuse a course you made previously.
Students get to keep an eye on their progress, with Ruzuku letting them mark 'completed' on each activity you task them with.
Students get to express themselves more with the ability to post images, PDFs, and videos while responding.
Ruzuku lets you display and host PDFs, PPT, Word documents, and indeed practically any file you need for your course.
Never lose your courses with Ruzuku's daily backups.
Ruzuku Pricing
Bootstrapper ($99 per month):
Unlimited courses and students together with unlimited video, audio, and data hosting. However, it only allows a single instructor. It also has zero transaction fees. Thus, allows your customers to pay you directly, accepts payments via Paypal or Stripe, and gives basic commerce with coupons and comprehensive support.
Up-and-Comer ($149 per month):
This payment plan gives you everything found in the Bootstrapper. In addition, it allows you run polls and quizzes, subscription and payment plans for your students, and unlimited webinars.
University ($199 per month):
Here, this plan allows you to get everything in the Up-and-Comer. Added to that is your domain, multiple instructors and site managers, and a dedicated account manager.
Other Online Course Platforms
So there you have it, our top 7 online course platforms will help you as an instructor.
There are two more that are pretty good and deserve mention: Academy of Mine and WizIQ.
Academy of Mine is an excellent eLearning platform. One of the nice things about it is they don't just help you set up shop and leave you to it. They also assist you sell your courses by utilizing their marketing tools and analytical dashboards to get you customers.
WizIQ provides teachers and students with virtual classrooms in which both can interact live. The online course platform provides unique tools such as mobile options, analytics, discussion boards, and video streaming.
Conclusion
So what are you waiting for? With this knowledge you can choose the best online course platform that suits you and reel in those customers!
You may also like to read our latest article, Top 10 Ways To Sell Your Skills Online In 2022.