Magento and Salesforce are similar platforms in terms of their functionality and service, and when you integrate them successfully, you get the best of both worlds. See how in this article.
Salesforce is a cloud-based CRM that has its focuses on marketing automation and analytics used by thousands of merchants all over the world. The company offers multiple products that simplify the way you manage customer relationship processes, making them automated and providing the most in-depth insights into the health of your enterprise.
On the other hand, Magento is a platform that helps programmers to create e-commerce websites. Its release was on the 31st of March 2008 by Varien and developed on Zend Framework. Many businesses have used this open-source to set up their online store, including reputable ones like Nike, Samsung, etc. In 2018, Magento was acquired by Adobe for $1.68 million. This acquisition assisted Magento in developing in the enterprise market.
It continues to provide ecommerce entrepreneurs with the necessary features to realize their goals of becoming web merchants. Freelancers can also use it to create a unique online presence as well.
Salesforce helps improve business relationships, increase customer retention, and boost sales. In addition to managing sales accounts, they also control the company's interaction with potential clients.
With Magento serving as a powerhouse for more than 10% of online stores with more than five thousand downloads a day, the e-commerce business is falling in trend, and most vendors prefer to use the Magento platform for scaling their business.
The Magento platform is best used to create customized e-commerce websites and results in personalized customer experiences, thus imparting high levels of customer satisfaction.
When combined with a good CRM like Salesforce, it matches the capabilities of the organizational system and contributes to enhanced efficiencies and profitability. Businesses witnessed a growth of about 35% in customer satisfaction with the use of Salesforce for managing customer data and information and an increase in revenue by 25%.
RELATED ARTICLE: How to integrate Magento 2 with Pos System.
Host your website on Cloudways
Get flexible and affordable hosting services for all kinds of websites: Woocommerce, ecommerce, PHP, apps and more.
How to integrate Magento and Salesforce using Zapier
We can integrate Magento and Salesforce to bring about better chances in business prospects and visibility. Integration requires the following procedures and steps:
1. Get Zapier
Zapier is an automation tool that makes the integration of applications and systems a walk-through. When you consider doing a Magento Salesforce Integration, the best thing is to start by getting the latest version of Zapier.
Download it, create an account and log in to it. You can find the tool easily as it is readily available over the web.
2. Sign into Salesforce
Since you must integrate your Magento platform with Salesforce, you must log in to your Salesforce account. Before you continue with any other integration process, log in to your Salesforce Account and ensure to remain logged on.
3. Make a Zap
Once you log into your Zappier and Salesforce account, head over to your zapier account, you will see the option "Make a Zap" at the suitable top space in your dashboard. Choose this option to initiate the integration process.
4. Choose the Trigger app
The step before this one directs you to a setup where you need to choose a Trigger app. you will see a dropdown list from which you will select the triggers you want to be with the integration. Once you do this, choose "Save and continue."
5. Connect Magento account
You will get a redirection to a screen that will request your Magento account details like a domain name, username, and password. Fill in the details, then click "Continue" to allow Zapier to connect with your Magento account. You get a redirection to a screen for testing the Magento store. Click on "Save and Continue." The store gets tested, and you will be ready to move to the next step, which will also be called the subsequent integration phase.
6. Integrating Salesforce
After testing Magento, you will be redirected to a page asking you to "Choose an Action," from where you can start integrating Magento and Salesforce.
As you click on "Salesforce" in the Choose an Action Page, you will see a "Select Salesforce Action" dropdown menu with several options.
Choose the "Create Contact" option from where you will see a "Select Salesforce Account" page. Click on the "Connect an Account" option.
You will see a "Select Salesforce Account" Page. Click on the "Connect an Account" option. You will see an automated guide. Follow the same setup template after you click the "Continue" button.
Test Salesforce then clicks the "Finish" button.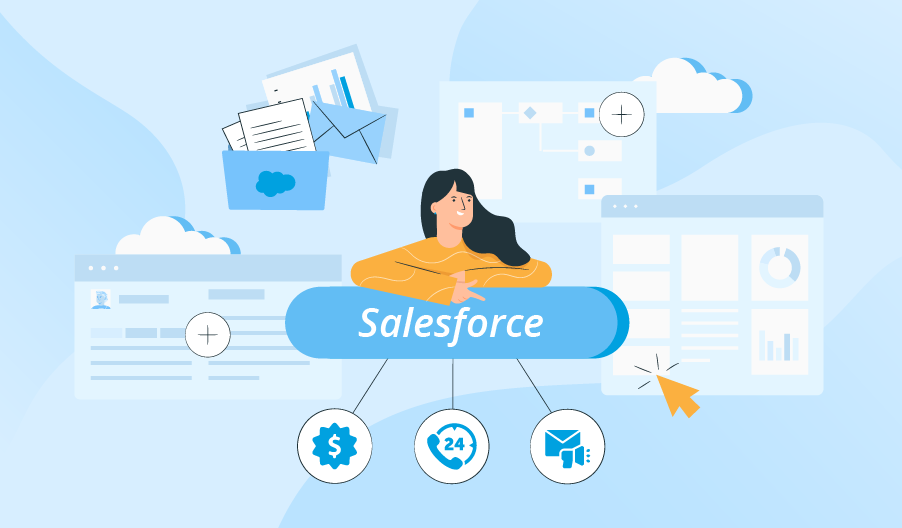 7. Name your Zap
Once you complete the integration, you test the accounts, and then you need to name your Zap and then click on the "Finish" button. After that, it will recheck Magento for the integration, and you are all set.
Another way to integrate Magento and Salesforce is by using PowerSync, a digital connector that provides a means for platforms to interact with each other.
Power sync, launched in 2011, provides a solution for bringing Magento into an automated collaboration with Salesforce, the world's leading CRM.
Host your website on Cloudways
Get flexible and affordable hosting services for all kinds of websites: Woocommerce, ecommerce, PHP, apps and more.
5 steps to complete Magento and Salesforce integration using PowerSync
1. Installation and setup
Power sync comprises Magento extensions and Salesforce-managed packages you need to deploy to different client environments. It is a direct connection that reduces the risk of a data breach.
Once the client makes their purchase, a member of the PowerSync team contacts them to determine the way they wish to use Salesforce and discuss the process involved.
Power sync helps coordinate the installation and configure the integration based on the requirements by working with the client. We can set the integration to push data from Magento to Salesforce and from Salesforce to Magento.
2. Synchronizing the catalog
Products are matched based on the Magento Stock Keeping Unit and Salesforce product code to prevent duplication. The integration aids multi-catalog Magento implementation, synchronization of native and custom data, and system of record controls at the field level.
3. Customer management
PowerSync leverages Salesforce leads, contacts, accounts, and personal accounts that cover all user cases in B2B and B2C industries. Customers on Magento are usually based on the email address, also offering custom lookups. The integration can identify duplicates in Salesforce and resolve issues automatically.
4. Opportunities and abandoned cards
As a registered customer adds products to their shopping cart and starts the checkout process, Magento and Salesforce integration captures the coach as an opportunity in Salesforce. If the process to checkout is incomplete, the cart becomes abandoned, and the opportunity label gives sales teams a chance to capture customer data and convert while the lead is still hot.
5. Orders
As you place orders in Magento, it captures them as charges in Salesforce ad are connected to the opportunities from which they originated. The order contains products, billing and shipping addresses, and notes. As the status of the order changes, it reflects in the other system.
In conclusion, integrating Magento and Salesforce helps elevate your online business by giving it the boost it needs while it fulfills clients' needs and strives to attain growth in all indices.
You may also like to read our latest article, 7 Best Enterprise Ecommerce Platforms.