In this article, I'll cover how social media is essential for any business and what you need to consider when picking your Social Media Management tool. I will also review some of the top Hootsuite competitors and show you why choosing alternative software can be a more cost-effective alternative to Hootsuite.
What is Hootsuite?
Hootsuite is a social media management tool. Many other applications allow you to post content, manage your profiles, and schedule posts in advance. Hootsuite is a social media management dashboard that can monitor and manage your social media campaigns. You can schedule posts, track mentions and keywords, create custom reports, and more.
Hootsuite has a web-based and desktop application, but it also has mobile applications for Android and iOS devices. You can also install the extension on your browser if you're looking for an easy way to stay organized while browsing different sites or blogs.
RELATED ARTICLE: Social Media Videos: 7 Easy Steps To Making Them.
GrowthBar SEO - The Ultimate SEO and Content Tool
For just $29, get access to: Keyword Research Tool, AI Writing Tool, and More.
Hootsuite Competitors
While Hootsuite might be the face of social media management tools, it certainly has shortcomings. Regardless, it has a scheduling feature, allowing users to schedule posts in advance and view analytics for each post. This makes 
Many of the competitors listed below are similar to Hootsuite because they all offer social media management tools with analytics packages that allow you to see how your posts are performing across different channels:
1. Social Champ
Social Champ is a social media management tool for brands and agencies. It's easy to use, powerful and has many features that make your work easier.
Where Hootsuite is more focused on managing multiple business accounts, Social Champ is all about you as an individual using the platform. This means it's much more customizable, and you can do more with it than Hootsuite.
Social Champ also offers some great integrations with other services like MailChimp, making it easy to integrate emails into your workflow without leaving the app itself; you'll often find yourself going back and forth between apps.
Another thing that sets them apart is their price point: while they offer paid plans starting at $26/month, they also have a free program that allows you up to 10 social profiles. So if all you need is basic scheduling capabilities, then this might be all the toolbox you need. You can also purchase the Business plan for $89 per month or get a custom made plan for you.
2. Buffer
Buffer is a social media management platform that allows you to schedule your posts across multiple accounts. You can also integrate it with other tools like Google Analytics and MailChimp so that you can see the impact of your social media efforts in real-time.
Buffer also offers analytics on how many people have seen each post, what they clicked on, and other data such as engagement rates, number of shares, and mentions.
It's free for up to three profiles or up to 10 posts per day, but if you want unlimited profiles or more than ten posts per day, then there are monthly plans starting from $5/month for its Essentials plan and $10 per month for its Team plan.
3. eClincher
eClincher is a social media management platform that helps you schedule and publish posts across multiple social networks from one place.
As a free user, you can connect up to 5 social profiles and publish up to 100 posts per month. If you want more features, eClincher has three paid plans starting at $49/month.
eClincher's key features include:
Scheduling tools for Facebook, Instagram, Twitter, and YouTube

An intuitive dashboard with drag-and-drop functionality so you can quickly post content without having to log in constantly and out of different platforms.

A built-in browser window, so it's easy to monitor mentions of your brand on social media.
Its basic pricing plan cost $59 per moth while the Agency plan costs $219 per month. Both options have a free trial period to get you started.
GrowthBar SEO - The Ultimate SEO and Content Tool
For just $29, get access to: Keyword Research Tool, AI Writing Tool, and More.
4. CoSchedule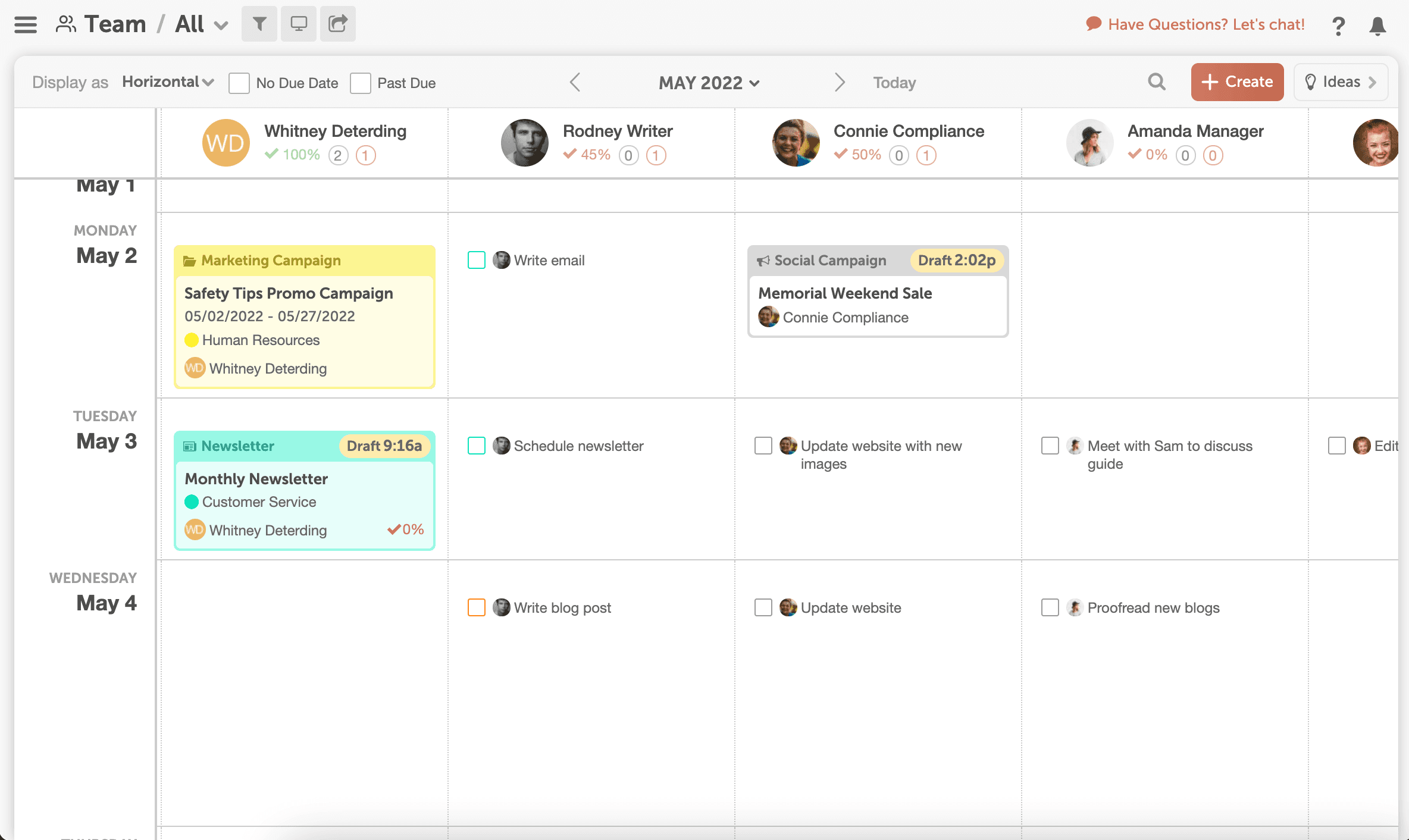 CoSchedule has several critical features to help you streamline your social media management. Its drag-and-drop planner allows you to create your editorial calendar, while its internal analytics dashboard helps keep tabs on what's working and isn't. In addition to creating content calendars, CoSchedule also offers tools that allow you to analyze social media data and make informed decisions about how best to engage with followers.
The platform makes sharing content from multiple sources easy via its integration with Hootsuite and WordPress. Plus, it offers built-in scheduling for Instagram Stories and Facebook video ads, two services that aren't available directly through Hootsuite's dashboard at this time. CoSchedule costs $29 per month with a free account and customizable options.
5. Sprout Social
Sprout Social is a social media management tool that helps you streamline your social media efforts.
Sprout Social Key Features:
Track and analyze responses from your customers on all major social networks, including Twitter, Facebook, LinkedIn, and more.

Schedule your posts for optimal engagement and post share-ability in real-time with just one click.

Measure the impact of each channel on your business with deep insight into attribution reporting that shows how much revenue each channel has generated for you.
If you are considering this as an option, its pricing models starts from a standard plan of $99 per month to an Advance plan of $279 per month.
6. Socialbakers
Socialbakers is another social media management tool that allows you to manage multiple social media accounts from one dashboard. But their main focus is on the Facebook, Instagram, and Twitter platforms.
Socialbakers works with the idea of "Influencer Marketing," which helps you find influencers and promote your content through them so that it reaches all their followers, which are usually more than just their friends.
7. Agorapulse
Agorapulse is a social media management tool that allows you to manage and monitor your content marketing programs. It has a wide range of integrations, including with other tools like WordPress, Zapier, and Salesforce, so you can access Agorapulse from anywhere.
Its Task management feature means you can create tasks in Agorapulse and assign them to team members. It's also possible to assign multiple tasks simultaneously if needed. This makes it easier for teams or departments to collaborate on projects without having them overlap each other's workflows or miss important deadlines.
Also, its Social listening feature lets you monitor conversations about your brand online by tracking keywords, hashtags, and more across Twitter, Facebook, Instagram, and more. Filters can be set up so that only relevant mentions are shown when using this feature, perfect for those looking at how competitors are doing things "to learn what they're doing right. It has a free version and a Custom pricing plan to help you customize it to meet your unique needs but its Pro plan starts at $79 per month. 
GrowthBar SEO - The Ultimate SEO and Content Tool
For just $29, get access to: Keyword Research Tool, AI Writing Tool, and More.
8. Sendible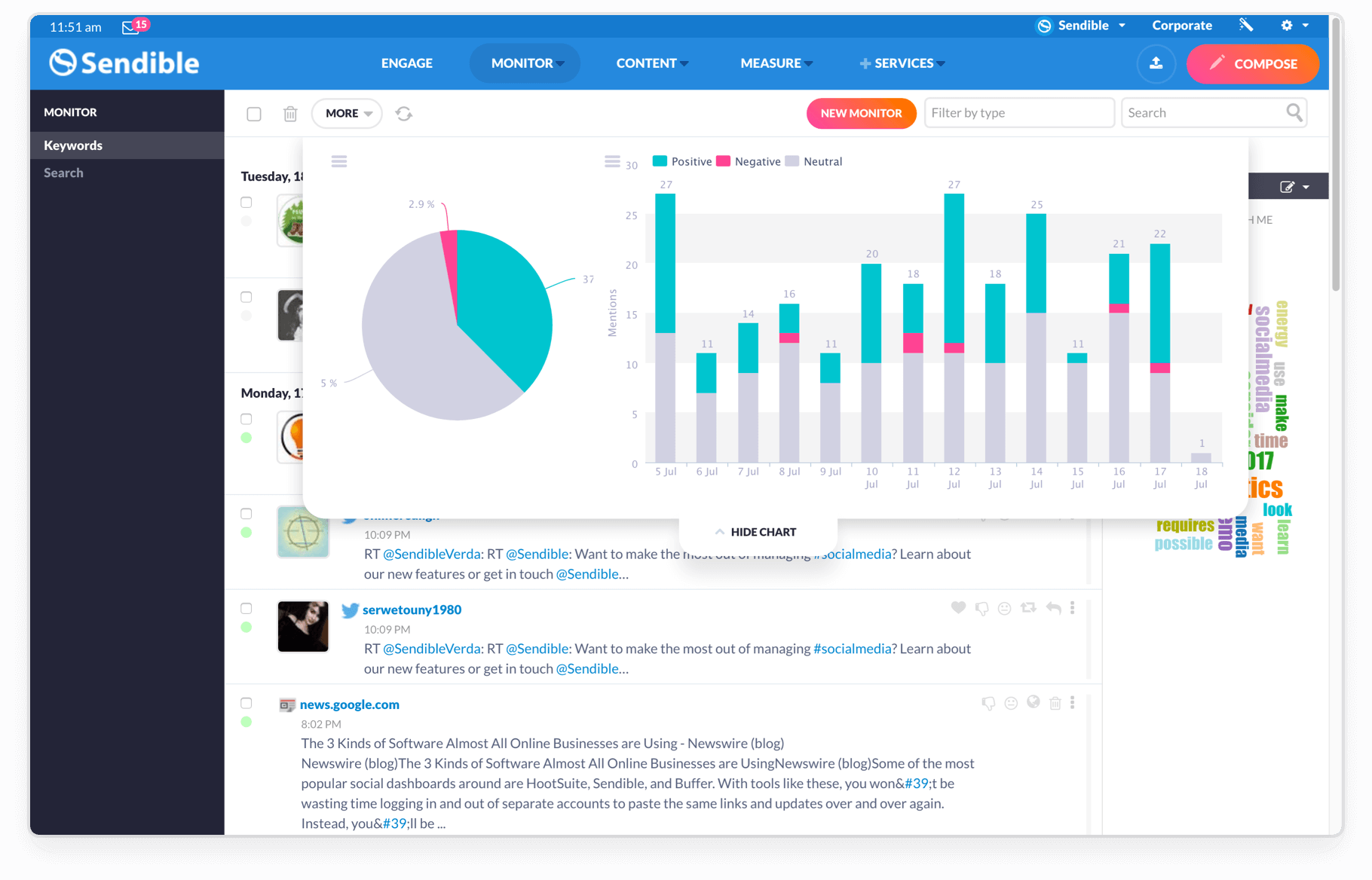 Sendible is a social media management software that allows you to manage multiple Twitter accounts, Facebook pages, and LinkedIn groups. It also offers a browser extension that can be used to schedule tweets through your desktop or laptop. You can also use the Sendible Chrome extension to monitor mentions and messages on Twitter and other social media channels.
The benefits of using Sendible are that it allows you to view all of your social media feeds in one place, has many features, including an easy-to-use interface, and has an intuitive reporting feature enabling users to see what content is performing best across all platforms. Its pricing plans are very reasonable at $29 per month for its Creator plan and rises as high as $399 per month for its Expansion plan.
9. Postify
Postify is a social media scheduling and publishing tool for Instagram, Facebook, Twitter, and LinkedIn. It allows you to schedule your posts in advance using a drag-and-drop interface, then chooses when your posts should go live by indicating the date and time and the day of the week.
Postify also has an Instagram feed feature that lets you monitor your customers' activity on Instagram so you can find influencers who could help promote your business or products.
Pricing plans start at $15 per month for it basic plan and $119.99 for its most advance options.
Conclusion
Hootsuite is a potent social media management tool that can help you actualize many of your social media targets. It comes loaded with several features necessary for growing your social media accounts across several platforms.
That said, Hootsuite competitors abound, providing similar features even for less. This means you can decide which social media management tool to use without being short of choice.
You may also like to read our latest article, Creative Content Production and Strategies.