A podcast is an audio file available on the internet for downloading to a computer or mobile device, and if you are a fan, you might require a podcast transcription service. New installments of the series can be received by subscribers automatically. Podcasts are a great way to connect with your audience and build a relationship via physical or emotional stimulation.
They are also straightforward to create, making them popular with bloggers and podcasters. Podcasts are a great way to be entertained and learn something new and are like radio on demand. Podcasts are usually free and available on apps like Spotify, iTunes, Stitcher, and Google Podcasts.
Whether you are a listener or a podcaster, knowing how to transcribe your favorite series can be helpful. And in this piece, I will be sharing some of the best podcast transcription services available to you.
Best Podcast Platforms of 2022
There are many places to stay up-to-date on the latest podcast episodes, and we know that it can be a little daunting trying to keep track of them all. Here is a list of the top 8 most popular platforms for listening to podcasts from your phone:
There is also an app called Pocket Casts, which allows you to upload your recordings directly and quickly.
Can I Make Money With My Podcast?
If you want to make some cash with your podcast, consider putting ads in your podcast. Many people opt to do this, but not everyone profits as much as possible. A few tips and tricks can help you get the best results from your ads. For example, Google Ad Words and Pandora for Podcasters are two services that can assist in this endeavor.
With Google Ad Words or Pandora for Podcasters, it is possible to run an a/b test with different ad wording or placement throughout your show. The goal is to find what works best for your audience, maximizing the number of engaged listeners who follow through on the call-to-action in the ad. Once that most effective ad has been identified through a/b testing and other trial-and-error methods, you'll be able to reap impressive rewards by monetizing your podcasting efforts.
RELATED ARTICLE: YouTube product review videos: how to make money from it.
Best Podcast Transcription Services
While you can use a machine to do your podcast transcription, the quality isn't there. The same goes for a cheap service that uses machine transcribers. It might seem like a good deal at first to save money, but you will regret it later when you have to edit the transcript repeatedly.
There are two types of services that provide high-quality human transcribers: instant quality (IQ) and premium human. Premium human is our top-of-the-line service in which two professionals proofread each transcript before it is delivered to you. This ensures an error-free transcript with perfect grammar and punctuation from start to finish.
If you need fast turnaround times or your podcast subject matter requires special attention, it's best to use IQ. So that one professional transcriber works on each project from beginning to end without any breaks in between recordings. This guarantees accuracy because there's less risk of losing context or missing details. That said, here is a list of the best podcast transcription service that you can use:
1. Rev
While it costs more than other options, Rev has a lot going on. Automated transcription services are pretty hit-or-miss, but Rev's accuracy is excellent. Even with poor audio quality, it has no issues with formatting or missing words. Additionally, if you're willing to pay extra per minute, human transcriptionists offer a 24-hour turnaround time.
This isn't ideal if you're on a tight schedule and need your transcript within the hour, but 24 hours is still far faster than most other services can offer their human transcriptionists turnaround times. The pricing structure makes sense as you pay a flat rate per minute:
· Automated transcripts cost $1 per minute.
· While human ones cost $2 per minute.
This means that you can predict the total cost before submitting your order. There are no limits on how many people speak or what accent they have; it's all one price for each type of transcription service.
2. Sonix
As the name suggests, Sonix is AI-powered audio-to-text converter. The technology behind it is sophisticated enough to recognize speech patterns in various accents and dialects. This makes it one of the most advanced podcast transcription services available.
Sonix's software can transcribe audio with up to 99% accuracy, so you won't have to worry about dirty words or sentences getting in your work. Its piecemeal pricing plans make it affordable for smaller companies who might not need as many transcription hours as larger competitors like Rev require every month.
3. Happy Scribe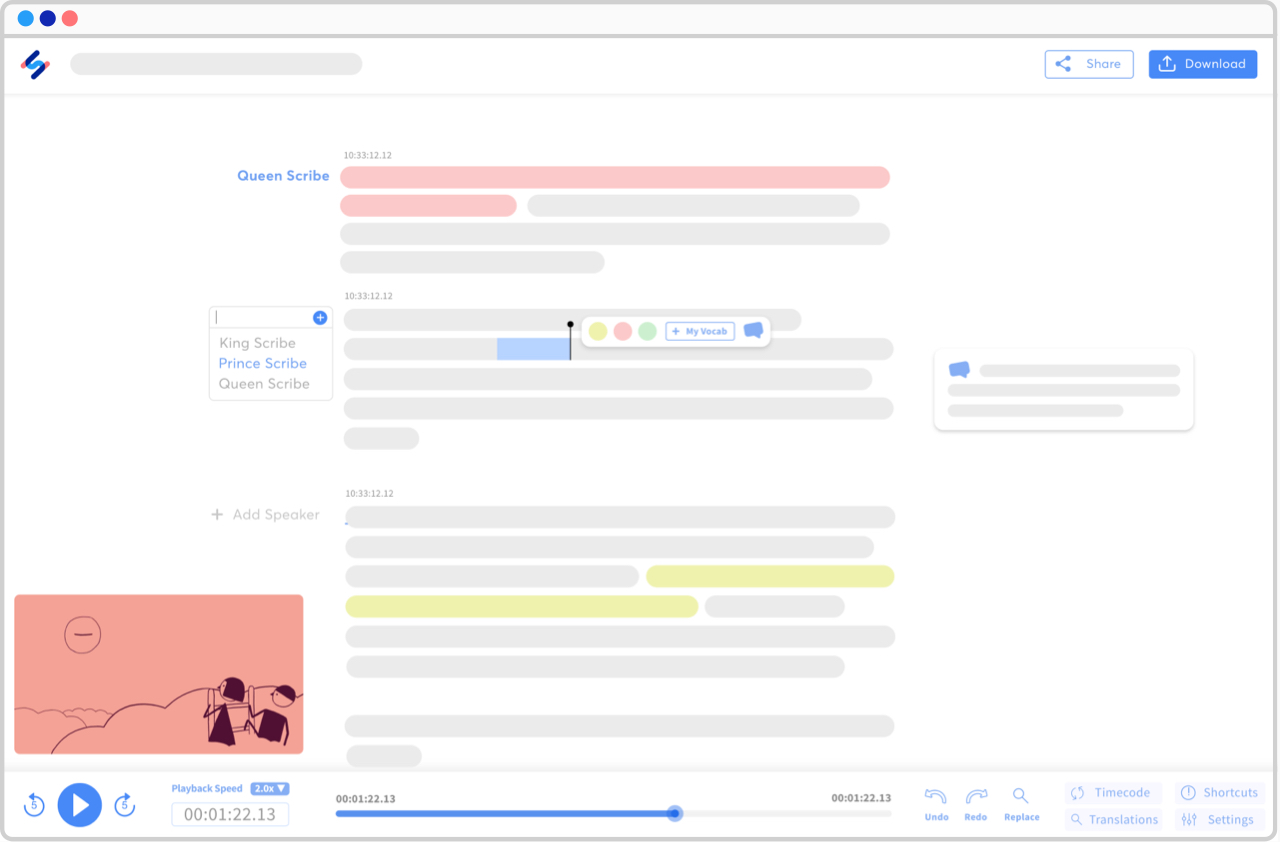 The Happy Scribe tool is an online transcription service that offers speech-to-text conversion, translation, and subtitling. Happy Scribe aims at taking on the challenge of converting audio into text in a self-service way. The platform offers three plans:
· The first plan is a pay-as-you-go plan with per-minute pricing, where you can get your files transcribed at $0.10 per minute. This plan also has a free trial option that gives you 60 minutes of free transcription before subscribing to any plan.
· The second plan is a monthly subscription for $20/month that gives you access to 1 hour of transcription per month. Also, there is no limit on file length and includes perks like priority support and discounts on translation orders.
· This third plan is an annual subscription for $99/year which also offers 1 hour of transcription per month, unlimited file length, priority support, and discounts on translation orders.
Happy Scribe AI is powered by machine learning algorithms based on millions of transcribed words from many industries worldwide. The system gets more accurate with each word it processes.
Its user interface features include drag & drop uploads (up to 500MB) and real-time stats about the progress of your transcriptions. Additionally, you enjoy automatic punctuation and capitalization (editable) and timestamps every 2 minutes in video transcripts. Multiple professional audio formats are supported (MP3, MP4A), and automatic saving every few seconds so you won't lose your work if something happens during editing or uploading.
4. Trint
Trint is a human-powered transcription service that you can use to transcribe your audio and video files. It also leverages artificial intelligence (AI) to transcribe your audio and video files automatically. This saves you time and money by automating and streamlining the transcription process.
Trint was founded in 2014 by Jeff Kofman, a former ABC News correspondent. This was done after discovering how difficult it was to have his raw footage transcribed while covering the violence in Libya.
Trint is a cloud-based platform that allows you to upload audio or video files directly from your computer or mobile device. Once uploaded, Trint processes the file in real time and creates a transcript of it based on AI algorithms. You can then edit this transcript yourself if necessary or leave it. If there are problems with its accuracy, Trint's customer support team will fix them for free.
5. InqScribe
InqScribe is a highly praised transcription services used for many purposes, including podcast transcription. It has been around for more than ten years and is compatible with both Mac and Windows.
One way to tell if InqScribe is the right fit for you is to try out their free trial. You will be able to see how it works and determine if it's the best solution for your needs.
InqScribe's features include Timecode generation, foot pedal support, and multiple files importing. You can import and export videos, including AVI, MOV, WMV, etc. Also, audio import and export, including MP3, WAV, etc. The pricing structure of InqScribe is as follows:
The basic version costs $129.95, while the professional version (which includes additional features such as foot pedal support) costs $269.95USD/year. It comes with one year of free updates/upgrades when purchased directly from them or an authorized reseller. If you'd like to use Inqscribe beyond that period, an additional $69USD/year fee gives access to the latest versions with all bug fixes and improvements.
Some pros of this service are its ease of use and affordability compared to other software on the market. Conversely, some cons include having limited functionality compared to other products available in this category. It also does not have any built-in noise reduction capabilities, so if noise reduction features are needed, another application would need to be used alongside this one.
6. Simon Says
Simon Says is a free online tool for transcribing audio and video files. The service uses AI and machine learning to convert your file into text. It's powerful transcription software that can take on any size project, from an interview to a webinar.
Simon Says offers a few features that make it stand apart from other transcription tools:
Free one-hour transcription

Video transcription of lectures, seminars, podcasting, and more

Document translation in multiple languages
7. Temi
You can use Temi to transcribe a podcast, and it has some great features and is better-rounded than other services in this subcategory.
Temi uses AI to create transcripts of audio files, but it also offers human transcription if you need that option. The human transcription is cheaper than most other companies but doesn't offer the same level of customization as the robot version.
You can choose from multiple formats for both types of transcripts, including Word Document, PDF, and Evernote files. In addition, you can include timestamps at no additional charge. No matter which type of transcript you choose, it will be edited by both Temi's AI and humans so that it's accurate and easy to read.
Temi costs $0.10 per minute for robot-generated transcripts or $0.99 per minute for human ones. That's less expensive than many but not all competitors in this category. You don't have to pay a setup fee or sign any contracts like you would at many of its competitors. The only costs are per-minute rates plus any additional charges you incur if you want more advanced options like video captioning or a speedier turnaround time.
If an essential text transcript is all that's needed for your project now, there are plenty of ways temi could fit into your budget, depending on length. And if your needs change in the future, temi can still accommodate them without making extra money from you in the long run.
8. Castos
The Castos tool is both a podcast hosting platform and, as you might infer, a transcription service. It's also one of the web's major podcast-related sites: it hosts over 15,000 shows and has published nearly 1 million episodes. Best of all, it provides a self-hosted website with every plan. So if you don't already have one, this can be an excellent option for you.
Castos's Transcripts feature is available on all plans:
Beginner $19/month

Pro $49/month

Business $99/month
Castos is probably best for those who need to create and format transcripts easily; however, it can only handle English text at this point. If your podcast is in another language or dialect, Castos may not work for you.
9. Audext
Audext is a speech-to-text software and is one of the best podcast transcription services out there. It's an audio transcription service, automatic transcription software, online transcribing tool, audio to text converter, and voice to text software. The service has an online interface and doesn't require downloading or installing on your device.
On Audext, you can transcribe both audio and video files. The platform also has an easy-to-use Drag and drop feature for uploading files. When done, you can save your transcripts in multiple formats, including DOCX and TXT.
Audext has paid pricing plans that allow you to transcribe both audio and video files. The cost is based on the number of minutes you need to transcribe.
Conclusion
Now that you know about the best podcast transcription services, it's time to choose the exemplary service. While you could hire a freelance transcriber or use software, this can become expensive or produce poor results. It's best to use a professional transcription service specializing in podcast transcription. They will be able to provide you with an accurate transcript quickly and at a reasonable price.
You may also like to read our latest article, How to Download Spigot plugins for Apex Hosting: A Comprehensive Guide.