What is a lead?
A lead is a person or a company potentially interested in your product or service. Every lead contains information such as contact details, company name, location, and job title.
An e-lead or an email lead is a lead whose contact information you've gathered through an opt-in form. These leads can continue to be groomed through email and other channels through permission marketing. Typically, these leads share their email address through an opt-in form in exchange for an offer.
What does a lead generation mean?
Lead generation is a marketing process that mainly focuses on gathering potential customer information, such as their name and email address. The purpose of lead generation isn't to try and directly sell something to these leads. Still, it encourages them to continue interacting with your brand through an email newsletter or following you on social media. This process helps classify them as potential customers.
One popular and effective method of lead generation is B2B email marketing.
Related article: How to start a Dropshipping Business on Amazon.
B2B email marketing
B2B [business-to-business] email marketing uses emails to promote products and services to other businesses for professional purposes rather than to individuals for consumer purposes. Initially, B2B marketing lacked creativity and personality, but over time, it is changing. Businesses discover that communicating their values with distinct personalities can be highly effective.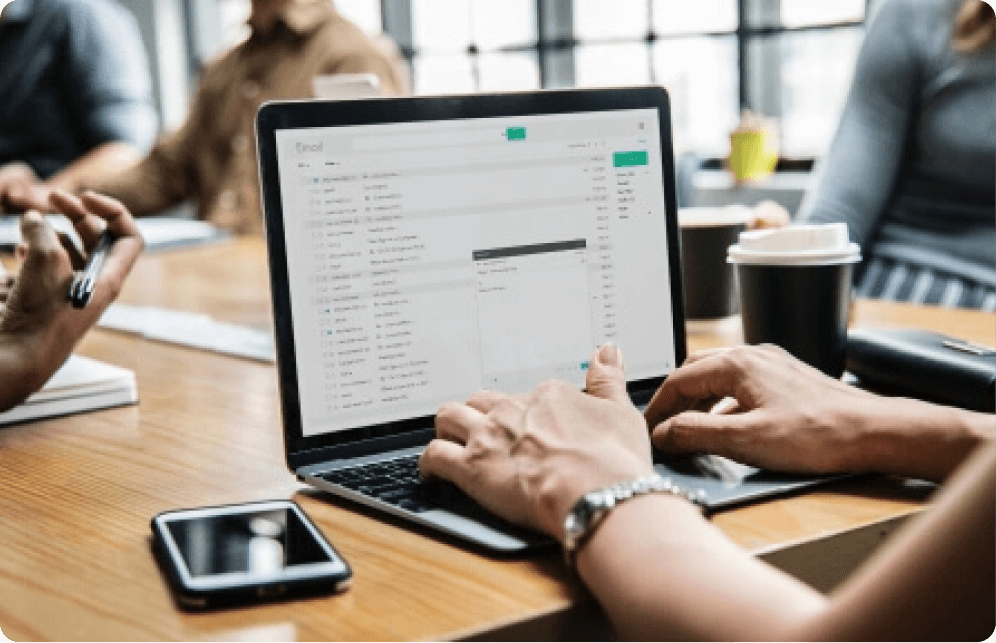 To have an effective B2B email marketing strategy, here are some tips to follow.
Know your prospects: 
Find out who is in charge of making decisions to purchase your products or services like yours and then target them directly. Your emails are more likely to fall into the right hands and give you more productive lead generation and sales results.
Segment your prospects:
One way to segment your prospects is to divide them into segments and send them the most relevant or appropriate emails. For instance, if you are trying to make a lead out of a company's CEO, your approach should be different from how you would approach a marketing manager. Though the mentioned two individuals may be decision-makers, a CEO is way more invested in their business than a marketing manager who is an employee. Away from job titles, another way to segment your email list is by industry or vertical, location, company size, and others you find relevant.
Use an effective subject line: 
Your prospects are likely busy people who have to wade through their emails every day; your subject lines heavily determine the secret to getting your prospects to open your email. Here are some ways to create a compelling subject line.
Keep it shortAlways remember your prospects are only scanning through their inboxes, so there are chances that there are only so many words they can catch from each subject line. This is why your subject lines must be easy to digest at a glance.
State the purpose of your email upfrontGet to the point as soon as possible in the body of your email. There's no point beating about the bush.
Don't use click baitsWhile there's always the temptation of wanting to use click baits to get your prospects to open your email, the truth about clickbait is that it makes your email appear like spam

, and it can get your prospective leads overlooking them and throwing such email in the trash.

Lastly, avoid typosTypos in your subject line are the fastest way to lose credibility, especially if it is your first email. So it is advisable to avoid typos at all costs.
Consider timing:
Timing is essential when generating leads with email marketing. To ensure that your email enters your prospect's inboxes when they will likely see them immediately, you need to know the right time to send an email.
Generally, most business people open their email inboxes in the morning before beginning the activities for the day. So, this is usually an excellent time to get their attention with your email. You also need to know what times of the year your product will be in high demand. Take advantage of these periods for effective lead generation through your email marketing. You can create special offers to get even more leads during these periods.
Always give value: 
One way to trump while sending a B2B email is to give your prospects value from the onset of your communication. It is the secret to generating interest in your product in advance and establishing a positive relationship with your prospects. A positive relationship built by providing value makes lead generation easier.
Give value to your prospects by sending them content from other sources that work too fine. Doing this shows that you aren't desperate for a sale but are first committed to making their lives easier.  One of the challenges usually encountered in lead generation is getting 'qualified' leads. When you give valuable content to your prospect from the beginning, you can be sure the people interacting with your emails are your ideal customers and are more likely to make qualified leads.
It doesn't just end there; it makes your prospects more open to your offers in the future.
Automate follow-up emails: 
If you wonder how to keep a communication line with your prospects, the best way is to send follow-up emails. However, finding the time to invest in sending follow-up emails might be a bit tedious. After all, lead generation is not the only thing you do at your company. This is where automation comes in.
Automating your follow-up emails is a smart way to generate leads from your email marketing without stress. It also allows you to scale your email marketing without extra effort. You can use marketing software like GetResponse, Mailchimp, SendinBlue, ConvertKit, etc. With these tools, you can send emails to specific segments of your email list at a preset time and interval. All you need to do is upload your email list, set up your follow-up emails and sending conditions, and the rest will fall into place.
Test new ideas:It's good to experiment with new ideas when generating B2B leads. However, make sure to test them before applying them. By testing, you can quickly identify what works and what doesn't. So, for instance, if you want to introduce an unconventional idea to the usual trend in the industry, testing is a safe way to allow potential mistakes and quickly correct them. You can try different subject lines, headlines, CTAs, and email designs in the same lead generation campaign to see which one gives you more leads.
Add a clear and compelling call-to-action:

Every email you send out has a purpose, even if you're not trying to sell anything yet. With this, you should have a goal in mind for every email you send. A call-to-action tells your prospect what to do after reading your email. It helps you steer them towards becoming leads and taking the next steps in their buying journey. Make your call-to-action clear and compelling enough to get your prospects to click on it. Since the call-to-action is the climax of your email, you need to work on what you already have in the body of your email and tell your prospects what to do. If you're unsure what call-to-action to use, test your options and use the most effective one.
Use mobile-friendly email layouts:Most B2B prospects access their emails and other information through their phones and other mobile devices. If you create your email for lead generation, you need to consider your text size and font, overall email design, and call-to-action buttons that are well optimized for mobile devices. Furthermore, your landing pages and website should also be mobile-friendly. When your call-to-action leads your prospects to a web page, they'll experience no difficulty interacting with your web content.
Track important metrics and analyze your results:The best way to make your lead generation effective is to drive it with data. Tracking and analyzing essential metrics gives you a steady supply of data to work with. Some important metrics to measure and track are the number of emails sent, open rate, clickthrough rate, number of replies [where applicable], bounce rate, conversion rate, unsubscribe rate, number of leads generated, and any other metric relevant to your business. Also, the marketing software you use will help you analyze these metrics to help you understand them easily. In some cases, you can even generate reports to quickly access the exact information you need per time. Knowing your numbers will make it easy to spot loopholes in your marketing. You'll also know what to keep doing to get a predictable number of leads.
Learn B2B lead generation techniques and methods from experts.
Benefits of B2B marketing
Apart from the tips highlighted above, here are some benefits of Business to Business [B2B] marketing
1. It is cost-effective:
Considering how effective a well-thought-out email campaign can be, it is more cost-effective than most digital marketing strategies. If you're starting your business, email marketing is one of the best ways to expand your customer base with nominal investment. Also, most email marketing service providers come with free plans that you can use as a small business or new start-up with limited funding. This means you can have access to email marketing automation tools like System.io for free or a small fee. Then as your revenue grows, you can scale up your subscription according to your needs.
2. Focuses on building relationships:
As a business, your main aim should be to build a lasting relationship rather than get one-off sales. Email marketing helps you achieve this. It does this by helping you establish a line of communication between your company and your customers. Through this line of communication, you can provide valuable content to help their business and personal life more manageable. You can also notify your customers of attractive offers, free stuff, or loyalty programs.
3. Easy to track: 
To track your performance to be able to identify where you are getting it right and where you are missing it, email marketing service providers have tracking and analytic tools for measuring the performance of every email you send. With the result from the metrics, you can identify the stage of each customer's journey and how to propel them to the next step. You can also improve engagement with your content and increase your conversion rate.
4. Allows for personalization:
Another benefit of B2B marketing email is that compared to other marketing strategies, it has the ease of allowing you to personalize content for different customers or prospects. It is easy to group your email recipients into segments and send emails tailored specifically to their business type or persona with email marketing.
5. Easy to design and launch:
One of the beautiful things about email marketing is getting up and running with it fast without bothering so much about design. You need an email list, good market research, relevant content, and email marketing software. Furthermore, your email can be as simple as a body of plain text, though you can use email design templates that come with many email marketing software if you decide to take things up a notch. So, it doesn't require much to design and launch an email marketing plan.
6. Emails are easy to optimize for mobile:
A significant perk of email marketing is how easy it is to make it mobile-friendliness. Since more business people are beginning to use their mobile devices to access information both at work and on the go, it makes sense to opt for mobile-friendly marketing campaigns. You can ensure your marketing communications are easily accessible to your prospects personally with email marketing. It's also a sure way to build solid B2B relationships and conveniently give value to your prospects.
Finally, no two businesses are alike. So, it is best not to be afraid to use your ideas. However, test it before establishing it as part of your B2B email marketing strategy for generating leads. With the tips and benefits discussed above, you can establish a practical framework for you to use in generating qualified leads for your B2B business.
You may also like to read our latest article, Best 10 multi channel e-commerce software.