What is an e-commerce software?
E-commerce software is the backend of a business's online store. It empowers business owners to quickly create a website to sell products, manage inventory, accept and process payments, and handle fulfillment. While many sellers pursue top e-commerce channels like Amazon, it's essential to diversify across multiple marketplaces to reach a broader range of consumers, protect your brand, and increase sales.
Diversifying is crucial for revenue growth since you can expand your reach and protect yourself from relying on a single marketplace. But creating a brand presence across multiple channels requires additional work and more investment. No matter how many channels you sell on, you must create a consistent, unified customer experience across every marketplace. Finding out the type of integration that works for your business manually will take vast amounts of human resources and time, which will leave you far behind. You can use multi-channel listing software to automate and rationalize listing across marketplaces, which allows you to stay in control.
What is a multi-channel listing software?
Multi-channeling listing software automates product listings; this makes it possible to set up product data and descriptions in one place with your listing software and then push that data to your marketplaces. Once you set up stock-keeping units (SKUs) or download them from existing individuals channels, listing software automates the process of relisting, adding them to new platforms, and updating stock and value based on remaining inventory.
A good listing tools cover product descriptions and requirements of each channel, allow bulk image upload, enable cross-channel business rule management will allow users to streamline workflows using filters and tags, and support automated inventory updates.
Related article: How to build email list from scratch in 2022 FREE!
Briefly, a good listing tool permits you to focus on your business while it manages inventory details of your multi-channel sales behind the scenes. A good software tool allows you to;
Prevent selling out and backorders
Automate restocking and relisting products
Provide consistent product information and prices across channels
Lower inventory management time investment
Automate order processing across channels
Integrate inventory across channels for more accessible and more efficient management
Expand visibility for your store and your products
Improve your conversion rate
Diversify risk and maintain multiple income streams
Leverage more data about your customers
Make things more convenient for customers
One of the key benefits of listing tools is to save time and money on multi-channel eCommerce management. However, many multi-channel listing tools also offer full-service inventory management, ERP, or other types of order management.
Some tips for multi-channel e-commerce software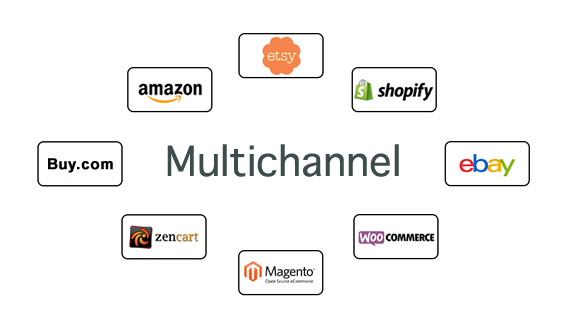 To truly gain a competitive edge, online retailers need to supercharge their multi-channel marketing strategy with advanced measures that adds value to the overall buying experience. Here are some tips and tactics to help navigate multi-channel eCommerce
Use dynamic retargeting across your channels.
Ecommerce retargeting is a way of advertising that allows you as the seller to display products ads to customers who have already visited your site. Displaying banner ads to previous visitors can significantly bring down your cart abandonment rate while also pulling in higher conversions. It is an excellent idea to set up retargeting for every channel possible to get maximum effect and more immediate results.
Contextualize your marketing message for each channel's audience
Contextualizing your marketing message is mainly about personalizing your communication across multiple channels. It doesn't imply delivering your message in the same way on every medium. Still, it involves sending out marketing messages based on each consumer's interests, browsing habits, and buying behavior while ensuring that the value you offer remains consistent across all channels.
Synergize your marketing and sales across channels
The main goal of multi-channel e-commerce marketing is to promote the same particular product across different channels, but it comes with a twist. You can direct each product's purchase link to a different sales channel, similar to what you did in the previous step, to personalize the offer. This method typically works quite well since most consumers are motivated to buy from their favorite marketing medium over other sales channels.
Furthermore, to avoid channel fatigue and foster positive, ongoing relationships with buyers, you are meant to refresh your sales offer regularly and gear marketing resources so that they can align with customers' expectations.
Market to prospects, not channels
It is often elementary to get carried away with multi-channel marketing; after all, you can promote products to people on any given channel, which ultimately allows you to drive new leads. But modern e-commerce customers are savvy, so instead of trying to reach them on every channel, reach them individually instead.
Leverage user-generated content
The best marketing you can ever leverage for a multi-channel campaign is user-generated content and word-of-mouth publicity. An excellent way to do this is to collect video reviews of your products from various clients and then feature them on your website or newsletters to deliver a strong message backed by social proof. To collect user-generated content, you need to put a creative spin on things by prompting customers to share how they use your product on their personal Instagram accounts and have them include your company name in the hashtag.
See also: Builderall Affiliate Program: How To Make Money With It.
What is a multi-channel inventory?
A multi-channel e-commerce requires sophisticated inventory management to coordinate inventory levels across multiple platforms. Multi-channel inventory management is the process of accounting for and tracking orders across various channels to maintain the proper levels of inventory data for each platform. The main aim of multi-channel inventory management is to display real-time inventory data for each channel so that buyers are adequately assisted.
There are tons of eCommerce listing tools, ranging from micro tools for small businesses to enterprise-level software. Below is a top 10 multi-channel listing software for sellers if you are looking to diversify your channels or simply looking for the best listing software out there.
Top 10 multi channel e-commerce software in 2022
10- GoDataFeed
GoDataFeed is an inventory and order management tool within the Shopify marketplace. It works to synchronize all of your product data and SKUs into a single feed, which you can push or share out to multiple marketplaces within inventory management. The multi-channel platform works with Shopify, eBay, BigCommerce, Volusion, Walmart, Google Shopping, and other major online marketplaces and shopping carts, making an easy and affordable way to manage listings across multiple channels. GoDataFeed pricing starts at $29 per month for one feed and 1,000 SKUs. GoDataFeed is a robust solution for small business owners. However, you need to manually update inventory because with 4-8 automatic inventory synchronization across channels for most subscriptions, GoDataFeed lacks the real-time inventory management available by other competitors.
GoDataFeed Pricing
| | |
| --- | --- |
| Products allowed | Pricing/store |
| 1,000SKUs | $29 |
| 2,000SKUs | $99 |
| 5,000SKUs | $199 |
| 10,000SKUs | $399 |
9- Zentail
Zentail is a multi-channel listing tool designed by retailers for retailers, with all of the features to run and automate multi-channel eCommerce sales. Their solution supports all major channels, which include Google Shopping. Zentail remains one of the most sophisticated eCommerce software tools available. They use intelligent tools, such as listing software that automatically defines products based on category for faster and smoother listing. Zentail also offers channel-based overrides, i.e., change pricing and ship-time based on channel and multi-channel automation for FBA. FBA stands for Fulfilment by Amazon, and it is a storage and shipping service that Amazon offers to help business owners sell their products. Zentail is the best fit for medium-to-large eCommerce sellers who need to optimize rather than set up processes.
8- SolidCommerce
SolidCommerce is a multi-channel listing and inventory management with automation, repricing, and cross-channel inventory synchronization. Its features include stock updates across channels, vendor management, inventory history management, multiple warehouse support, bundling and kitting, order fulfillment, dropship management, and bulk quantity uploads. Solid Commerce competes well with features. Pricing is $499 per month, but with software that seems designed for standard retailers moving to eCommerce, it's not always intuitive for eCommerce-only sellers.
7- Sellbrite
Sellbrite allows eCommerce brands and retailers to list and sell products effortlessly across several online sales channels and gain concentrated control over inventory and order fulfillment. Sellbrite has a simple, intuitive interface; Sellbrite also provides a powerful multi-channel solution for sellers with tools and automation to simplify listing, prevent overselling, and optimize fulfillment. Sellbrite works with popular marketplaces and shopping carts like Shopify, BigCommerce, Amazon, eBay, Etsy, and Walmart. Sellbrite pricing starts low at $49 per month.
Sellbrite Pricing
| | | |
| --- | --- | --- |
| Plan | Orders per month | Pricing |
| PRO 1OO | Up to 100 | $49/Month |
| PRO 500 | Up to 500 | $149 /Month |
| PRO 2K | Up to 2,000 | $249/Month |
| PRO 10K | Up to 10,000 | $399/Month |
6- Sellware
Sellware is another great multi-channel listing that includes inventory management and order fulfillment management. Sellware work with marketplaces like Amazon, eBay, Shopify, Magento, Zen Cart, OSCommerce, and ShipStation. The multi-channel listing charges $99 per month for 250 orders and 1,000 products; while Sellware isn't the cheapest tool for small eCommerce sellers, it is relatively affordable. It has lesser features than other competitors, with no billing or shipping management solutions. In conclusion, Sellware passes as a multi-channel listing tool, with support for all major channels, and inventory synchronization, topped with a robust template and workflow created for automating listing. If you run a smaller eCommerce store, you already have a solution to manage shipping and inventory. Sellware has a lot to offer.
5- ChannelAdvisor
ChannelAdvisor is one of the largest multi-channel listing software, it has a powerful set of enterprise-grade tools, ChannelAdvisor is ideal for medium to large businesses. ChannelAdvisor has a solid multi-channel synchronization and automation across channels like Amazon, eBay, Walmart, Google, Facebook, and others. It also functions as a complete multi-channel inventory management solution. The tool managers and automates listings, collect data, combines merchandising and marketing, and offers repricing and product intelligence—a wholly sophisticated and robust listing tool option. Lastly, ChanelAdvisor stands out with solid front and backend tools and an experienced, full-service approach to eCommerce optimization and automation.
4- GeekSeller
GeekSeller was original a Jet.com automation tool; however, it has branched out to offer inventory automation and management for Jet, Walmart, eBay, Amazon, Shopify, BigCommerce, and a range of shipping 3PL solutions. The monthly pricing of GeekSeller starts at $200 and goes up to 1,000. GeekSeller offers multi-channel inventory synchronization, real-time inventory updates, order management, repricing, and order fulfillment tools. But Geekseller only offers essential listing migration tools, so you are likely to edit listings individually for each marketplace you sell on.
3- CedCommerce
With CedCommerce, small and medium sellers can move their product catalog from their online store to some of the largest eCommerce marketplaces in the world. Sellers who use open-source e-commerce like Magento, Shopify, Woocommerce, Bigcommere, and Prestashop can connect with marketplaces like Amazon, eBay, Walmart, Jet, Etsy, and Wish, etc. CedCommerce multi-channel solutions are SaaS and plugin-based and help sellers transfer data according to different marketplace guidelines. Sellers can opt to move sets of data or bulk import their listings. The multi-channel e-commerce also helps curb overselling, allowing merchants to auto-accept orders and synchronize inventory counts across marketplaces. CedCommerce has direct payment and subscription-based models, which costs $30 per month on annual plans.
2- InkFrog
InkFrog is an inventory and order management tool within the Shopify marketplace. InkFrog is an eBay-focused listing tool offering integration with Amazon, Shopify, and BigCommerce. Pricing starts at just $12  per month. InkFrog is one of the cheapest multi-channel listing software solutions for eCommerce, but with the limitations to eBay only. One of the biggest pros of InkFrog is that it offers an easy way for small sellers to move listings from Amazon to eBay or Shopify using templates to ensure that product descriptions and content are correctly formatted across channels, making it extremely valuable for listing management when setting up and managing products on new marketplaces.
1- SellerActive
SellerActive is quite different from the multi-channel listing that has been discussed in this article; it focuses on direct sales, with repricing tools built-in alongside marketplace inventory synchronization and order management for fulfillment. The listing software integrates into major marketplaces like Amazon, Walmart, Jet, and eBay to allow listing creation, listing imports, and channel management all through a single dashboard. SellerActive also differentiates itself with one-on-one support from customer-service 'selling experts' who wall you through the software from the startup.
SellerActive costs $79 per month without repricing or product creation. SellerActive is affordable for businesses that are just starting up. Though if you need full-time support, SellerActive has a lot to offer. Below is SellerActive Pricing
| | | | |
| --- | --- | --- | --- |
| For GMV up to… | Monthly pricing | Add on; pricing | Add on; product creation |
| $10,000 | $79 | $50 | $50 |
| $25,000 | $179 | $75 | $75 |
| $100,000 | $229 | $100 | $100 |
| $250,000 | $449 | $125 | $125 |
| $500,000 | $669 | $150 | $150 |
| $1,000,000 | $899 | $175 | $175 |
Apart from the above best ten multi-channel discussed above, here are other multi-channel e-commerce Software options to pick from:
Expedite Commerce- Best quote-to-cash software for online retailers
Freestyle M.O.M- Best order and inventory management for multi-channel e-commerce
Intershop E-Commerce Platform- Best multi-channel e-commerce platform for personalization or adaptability
Jolt Fulfillment System- Best multi-channel e-commerce software for customized marketplace integration
Purchase Commerce- Best multi-channel platform with a lifetime license
ChannelUnity- Best multi-channel e-commerce platform for enterprise users
Cin7- Best integrated inventory management for wholesalers
StoreAutomator- Best multi-channel listing creation platform
Salesfloor- Best clienteling software for small business users
Sana Commerce- Best e-commerce platform for SAP and Microsoft dynamics
Productsup- Best product content syndication tool for small business users
SellerChamp- Best multi-channel SKU management software
BizAutomation- Best cloud ERP for small businesses
Now Commerce- Best wholesale online ordering platform
Acro Media- Best e-commerce platform development agency for Drupal-based projects
MarketplaceWorks- Best cloud order streamlining software for small business owners
Shift4Shop- Best free e-commerce website builder for small and medium-sized businesses
VoucherCart- Best voucher and gift card creation tool for e-commerce entrepreneurs
Liftoff Ecommerce- Best web-to-print solutions for resellers
Mobi2Go– Best e-commerce software for delivery integrations
Maropost- Best cloud-based marketing automation platform to streamline multi-channel customer engagement
Suite Engine CSM- Best e-commerce connector for Microsoft 360 Business Central
Lightspeed Retail- Best cloud-based retail POS system
SalesWarp- Best advanced order management system for an e-commerce managers
k-eCommerce- Best digital payments solutions for ERP systems
Final Inventory- Best multi-channel inventory management for warehouse managers
Equip by  GenAlpha- Best OEM and dealer e-commerce solution
Multiorders- Best eCommerce software for product merging and bundling across sales channels
Webgility- Best tax management tool for online retailers
Jazva- Best listing automation software for eCommerce business owners
Brightpearl- Best multi-channel eCommerce software for retail business intelligence
Jet Ecommerce- Best multi-channel eCommerce solution for the Southeast Asian market.
You may also like to read our latest article, Crypto mining = $246 on AutoPilot mining Bitcoin like this.