A Content Management System or CMS platform allows you to easily create a website without understanding any code (for most of them). There are several CMS vendors out there, which means you may be confused about choosing the one that is best for your needs.
What is a CMS Platform?
A CMS platform is software that lets you manage content easily and create a website. CMS vendors, simply provide the platforms and maintain them. Usually, developers write web pages in HTML, JavaScript, and CSS programming languages. If you were to build a website without using a CMS platform, you would have to learn these languages and write lots of code.
CMS platforms solve this problem by letting you make a website without writing code or learning to program. If otherwise, you seek a developer-friendly CMS vendor, it is most likely that you can code.
5 Ways to Choosing the Best CMS vendor for your website
Many different CMS vendors exist, so which one should you choose? Before looking at the various CMS platforms, here is what you should look out for in a good CMS.
1. Easy to use
You want a CMS platform that makes it easy to create and edit content. Often, this means having an interface that lets you drag and drop so that you can add different elements to your pages. It should be quick and straightforward to make changes to the content on your site after publishing it.
2. Design options
Your CMS software should offer plenty of website design templates to make your choice. It should also let you easily customize those designs to meet your requirements.
3. Data portability
A good CMS platform should possess tools that will help you easily export your data and move it somewhere else. For instance, you may later want to choose a different platform or a different hosting company. The portability of data makes it a lot easier for you to move with complete freedom.
4. Extensions and addons
Not all websites are the same. That is why any CMS platform cannot come with all the features that would fulfill the requirement for every website—having extensions and addons rectify the problem. They are separate software that you can install on your CMS software to extend its features and add new ones when needed. Picture them as apps to help your CMS platform. You may need to read up on integrations and how they work to understand better.
5. Help and support options
Although CMS platforms aim toward building a website, you may have some questions. Find out what help and support are available if you get stuck in the process. Some CMS platform providers will have a handful of FAQs and customer service that take a long time to give a response. Others will have a big supportive community that can assist you at any time, whether day or night.
What is the cost?
Some CMS vendors provide their platform for free, while some others charge a monthly fee. Even with free CMS platforms, you will sometimes need to pay for third-party extensions, designs, and web hosting services. Endeavor to make as many inquiries about the pricing before choosing your CMS, so you are not taken by surprise.
Having these things in mind, here are some of the best CMS platforms for you.
10 Best CMS platforms to use
1. WordPress
WordPress is the number one choice when you speak of the best CMS platform. It is the most popular CMS software globally as it powers about 43% of all websites on the internet.
Take note not to mix up WordPress.org with WordPress.com. WordPress.org is a free open source CMS designed initially for blogging, but now it is used by websites of all sorts. WordPress.com is a blog hosting platform.
Pros
WordPress gives flexibility and freedom to build any website like an online store, auction site, membership site, etc.

It does not need its user to possess technical skills or coding knowledge. The WordPress block editor makes it easy to create pages that look great on your site.

You have the freedom to earn online from your website in any way.

WordPress has lots of themes and plugins available that allow you to add extras to your sites like contact forms, photo galleries, and more.

WordPress is for search engine optimization (SEO). It is easy to create SEO-friendly URLs, categories, and tags for your posts. You can also choose from many SEO plugins to enable you to do more.
Cons
You will need to establish your hosting and domain name, and you will be responsible for managing things like security and backups.

Because there are so many options and as much flexibility, it can be pretty daunting when you start. Many beginners use drag and drop page builder plugins for WordPress.
Pricing
WordPress costs nothing, but having a domain name costs around $9 to $15 a year.
2. HubSpot CMS Hub
It is a fully integrated content management system specifically designed for marketers and business owners. Because it is on HubSpot's CRM platform, which includes marketing automation, sales, service, and operation tools, CMS Hub is an ideal solution to grow businesses and large enterprises in search of an all-in-one system to manage their website.
Pros
HubSpot website builder is easy to use even if you possess little or no technical skills. The drag and drop editor, built-in SEO tools, and contact attribution makes it easy to create and optimize your web content.

They have intelligent content features to personalize your website page to specific visitors or Larger segments.

For developers, some functions don't require servers, flexible theme options, and command-line tools, so you can make changes and customize assets faster.

It integrates seamlessly with their email marketing tool and sales CRM, so you get to streamline operational workflows/
Cons
There is no free version, but there is a free trial offer.

It is not well suited for eCommerce websites.
Pricing
The starter plan is $25 a month with all the features needed to build a fully functioning website. Higher tiers are better suited for building more complex web apps with dynamic personalization and internal processes.
3. Joomla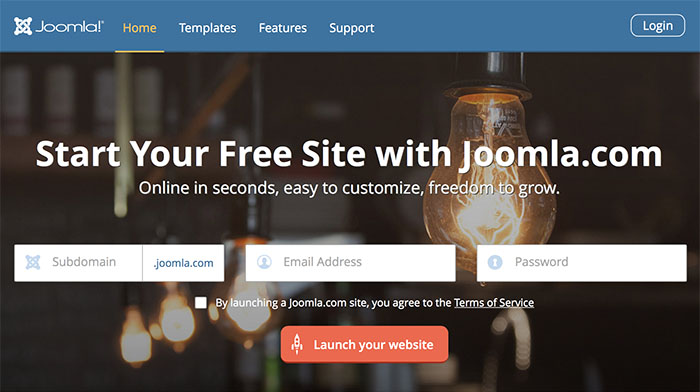 It is another free, open-source CMS platform with several templates and extensions. It is free to use, but you will need hosting and a domain name.
Its first release was in 2005. It has several features and web hosts offer installation with one click. However, it is an ideal CMS platform for developers and experienced website creators.
Pros
Joomla has lots of flexibility and several options. It is a good choice if you are creating something customized.

Although it suits developers, you can use it even if you don't wish to code. It is easy to edit your content.

It is open-source, with so much community support available if you get stuck along the way.

You can use it to operate an eCommerce store as there are extensions that can help this.
Cons
Compatibility issues can occur if you have many different extensions and modules installed.

It is pretty complex. Depending on what you want, you may need to hire the services of a developer.
Pricing
Although you need to pay to have a domain name and web hosting that supports Joomla, it is free.
4. WooCommerce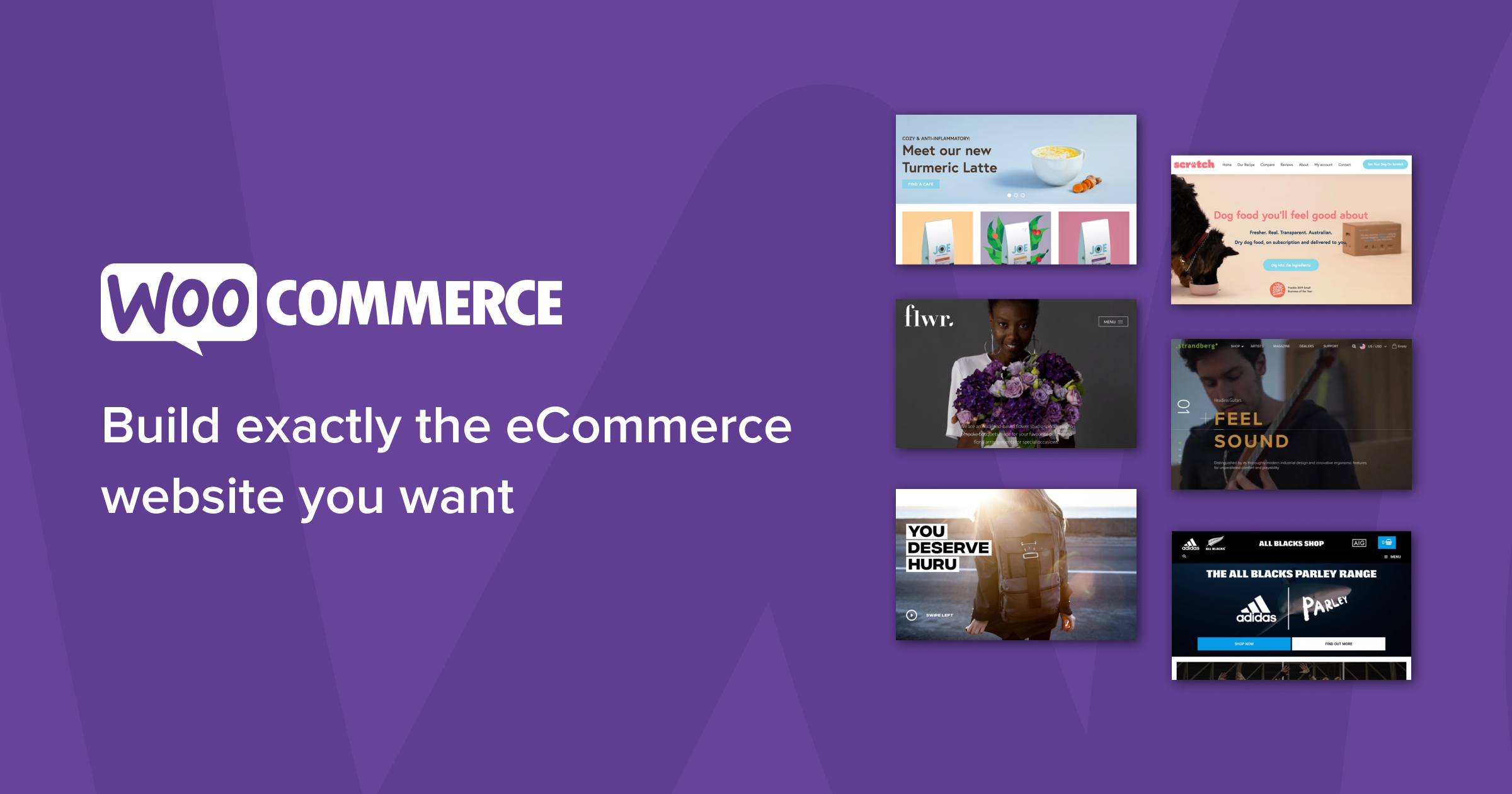 It is the most popular eCommerce platform globally, which is pretty flexible and easy to manage. WooCommerce is not like other standalone CMS vendors. Instead, it operates as a plugin on WordPress. Therefore, you will need to have WordPress on your site to have WooCommerce installed.
Pros
It is available as free software, but you will need WooCommerce hosting and a domain name to begin.

There are many WooCommerve themes available, making it relatively easy to have your site look just as you want it.

It has many available extensions like wooCommerce plugins that allow you to add extra functionality to your site.

WooCommerce allows you to sell physical or digital products. You can even sell affiliate products through affiliate links.

WooCommerce allows you to manage your inventory, making it easy to keep track of what is in stock.

It comes with PayPal ad Stripe payments by default. It also lets you add any other means of payment through extensions and addons.
Cons
The many options in WooCommere can be pretty daunting when setting up a new website.

It works with any WordPress theme, but you may want to go with pieces explicitly made for WooCommerce for extended support.
Pricing
WooCommerce Is free, but you may need to pay for extra plugins and extensions for your online store. You will also need to pay for a domain name and have a hosting web account.
5. Drupal
It is another open-source CMS vendor behind some significant websites like some university sites. Drupal is a good option for developers. It is good if you are aiming to build a customized site that needs to handle lots of data.
Pros
It makes adding content easy. The custom content types are flexible and give plenty of options.

You can add several modules to your site ( they work like WordPress plugins).

Support is available through community support options similar to other popular platforms like Joomla and WordPress.

User management is easy with a built-in system where you can create new roles and specify their permissions.
Cons
With Drupal, it may be pretty tricky to sort out how to change the appearance of your site or ad extras. It is not beginner friendly like WordPress.

Most Drupal sites have heavily customized themes created by a developer, which can be expensive.
6. Wix
It is a popular CMS vendor. It is beginner-friendly and maybe worth considering with its free plan.
Pros
Its drag and drop interface makes it easy to create pages that look like you want. You can select any part of your page to edit.

There are many pre-made templates for you to make your choice. They are fully responsive, so they look great on mobile devices and computers.

You can add many apps to your site from the Wix App Market. They work like WordPress plugins to give your site new features.
Cons
Once you pick a template on Wix, you can't change it. It may mean that you are stuck with a layout not suitable for your site.

You cannot run an eCommerce store on Wix unless you upgrade to a paid plan with which you can only accept payments via PayPal or Authorize.net.
Pricing
You can use Wix for free. The paid plan, which grants more flexibility, starts from $13 a month.
7. BigCommerce
It is an all-in-one platform. It is easy to navigate if you are starting. It hosts sites for you and also grants the actual CMS platform. It handles security and backups for you.
Pros
The trial plan allows you to try out BigCommerce before you make commitments.

You can use a free domain name that looks like myappstore.bigcommerce.com or pay to have a custom domain name.

There are many different ways you can make payments on Bigcommerce. Customers can use digital wallets like PayPal, Apple Pay, and Amazon Pay, or they can use their credit or debit card.

You can also use BigCommerce with WordPress to get the best.
Cons
It does not let you have control over your store. Limited themes may prevent you from using a third-party service to grow your business.

Once your sales get to a certain level yearly, it automatically moves you up to the next level of the pricing plan.
Pricing
You need to pay a monthly subscription to use BigCommerce, making it less cost-effective than other solutions. Or can save money by paying upfront rather than monthly.
The cheapest plan is $29.95 per month, resulting in sales of up to $50,000 a year. The Pro plan goes for $249.85 per month, covering $400,000 in sales.
8. Shopify
It is an all-in-one hosted CMS platform. You do not need to buy hosting, install any software, or manage things like updates and backups. It has a drag and drop interface that is straightforward. It supports in-store sales, which is excellent if you have a physical store and a store online.
Pros
There are many extensions and themes available. You can purchase third-party Shopify apps that allow you to add features to your online store.

You do not need to upgrade if you make over a certain amount in sales.

You can accept credit and debit cards through its integrated payment solution.
Cons
Costs can be relatively high, especially if you want to add third-party apps to your store.

You may want to add functionality that is not available. Shopify apps are more limited than WordPress plugins.
Pricing
The cheapest plan is $29 per month. However, the most expensive is $299 per month with many more features. You get a discount for paying upfront.
9. Ghost
It is a CMS platform designed for bloggers. A website can also show this platform's content, but it could also send it to a mobile app.
Pros
Markdown comes into use when you are writing in the Ghost editor. Markdown is a way to format text where you add special characters around words to make them bold, italic, etc.

It has a content editor that makes use of cards.

There is support for SEO built into Ghost. There is no need to add plugins for this.

It is there to charge for content, so you can easily do this if you wish to operate an online magazine or publication that people pay to see.
Cons
It does not offer the same amount of power and flexibility as WordPress.

Although it started as a CMS platform just for blogging, some users see it as rather complicated as it now gives paid subscriptions to your site's readers.
Pricing
The software is free, but you have to pay for a domain name and web hosting. The basic plan to get Ghost hosting is $36 a month. If you want more users or subscribers, you will pay $249 a month.
10. Magento
It is an open-source e-commerce platform from a bi software company Adobe. You can download and install a free version on your web hosting account known as Magento Open Source.
Pros
It is highly customizable, with many third-party extensions available that you can use to add extra features.

You can handle many products and customers. It allows your business to grow without your site slowing down quickly.

Big brands use Magento, like Nike, Ford, and Coca-Cola.

You can link direct payment gateways to Magento. It comes with specific options like PayPal, cash on delivery, and built-in bank transfer.
Cons
It may be pretty overwhelming if you are starting eCommerce

It appears tricky to find developers to carry out Magento projects, and it can be expensive to hire them.
Pricing
Its price starts from around $22,000 yearly, which is quite expensive, leaving it out of the budget for most businesses that are just beginning.
In conclusion, we can say that several CMS platforms make it easy to set up your website without knowing technical details. They provide an interface and plugins that make it easy for beginners to navigate when creating their website.
You may also like to read our latest article, What is eCommerce Integration And 5 Ways To Quickly Get it Done?