Facebook marketplace payment methods are the several ways to receive payments as a Facebook seller, see the several options available below.
Facebook introduced the Marketplace feature in October 2016; by May 2017, it only listed over 18 million items for sale in the US. The service further expanded to other countries. Facebook reports that the search volume in the Market has tripled globally since the beginning of 2017, with over 550 million active people in groups where buying and selling take place monthly.
If you are searching for holiday gift bargains or considering selling off some of your old stuff to fund a shopping spree, the Facebook marketplace is an alternative to boost sales.
If you own a shop and want to receive money for what you sell, the messenger may not be a good choice. Adding a payment method within the Facebook Business Manager will be your best bet. You need to make use of a computer for this to work.
READ: How to Sell on Facebook Marketplace: The Ultimate Guide.
Here is how to setup your Facebook marketplace payment system
1. Go to Facebook's business payment settings.
If not logged in already, log in and choose an account if you have more than one Facebook account. If, however, you do not have a business page, then you can create one as the process is straightforward.
2. Payment Methods
Click the payment methods tab on the panel towards the left of the page next to a credit card icon.
3. Add payment method
Click the add payment method tab that you see centered on the right side of the page.
RELATED ARTICLE: How to Edit Shopify Payment Gateway in Simple Steps!
4. Location and currency
Choose your location currency. You still have this same option if you are using the mobile app.

Click on the circle next to the payment method you want to add, then click next to continue.

Follow the instructions on the screen, fill in the card payment information like the card number and the CVV, then click on save.

Once you add this method, people can make payments for items in your shop using the Facebook business page.
If you want to send and receive money for personal reasons, such as sharing the cost of lunch with a roommate or gifting money to your friend or family member, then you will want to use messenger instead.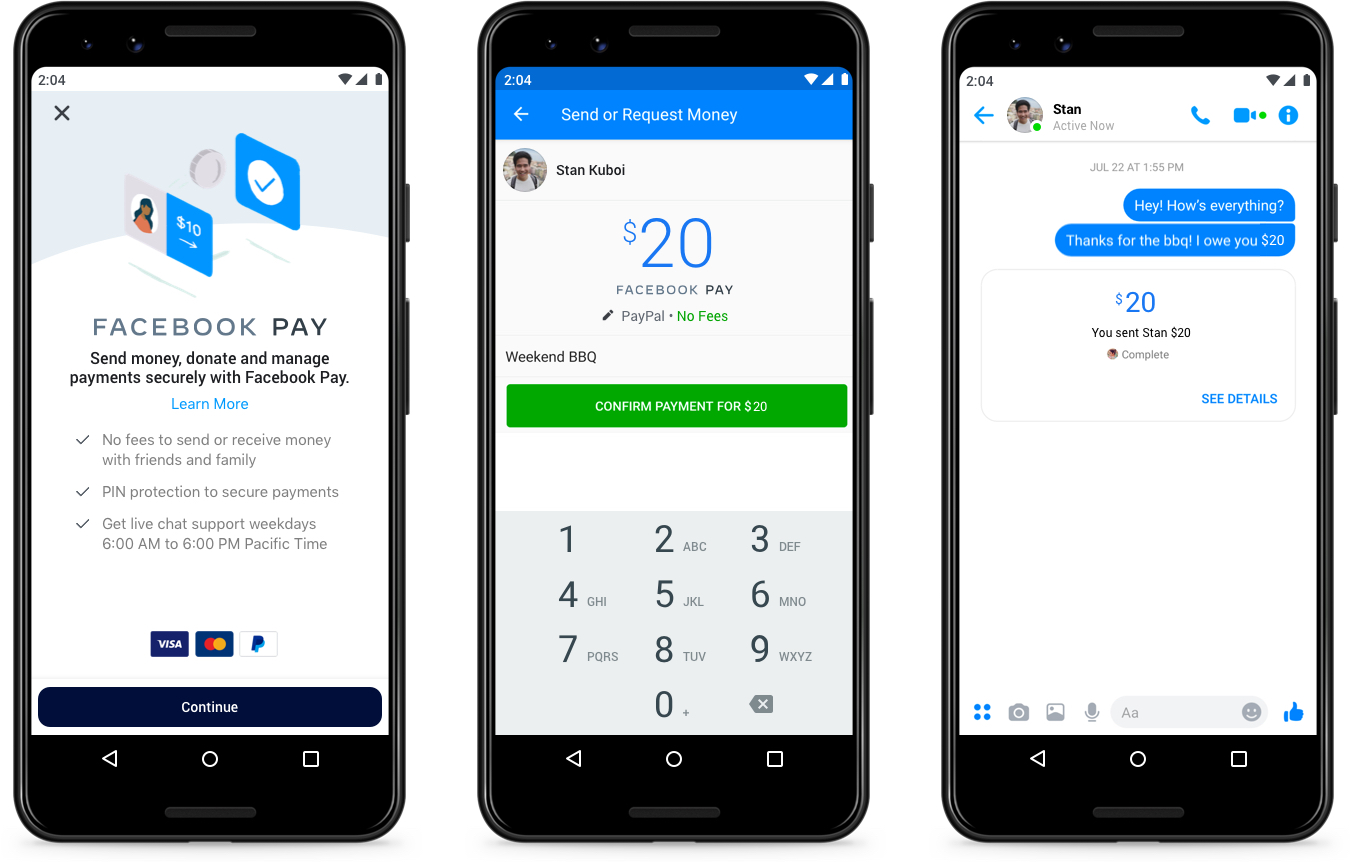 Facebook marketplace payment tips
Use a credit card or secure payment service for all transactions
There is no in-built payment mechanism in the marketplace. Therefore, you have to make arrangements for payments directly with the other party in a transaction. Dubious sellers may insist on being paid in cash, through gift cards, or other means of payment that are not traceable, and somewhat shady buyers may offer gift cards that turn out to be valueless.
Stay clear of transactions that don't involve local buyers or sellers
Facebook only shows potential buyers and sellers that are within your area. Be careful if a seller tells you they will have to ship an item from afar because the chances are that you will never get to see the order, or it won't be what to expect. If a buyer also asks that you ship an item over a long distance, consider terminating such a transaction.
Check the profile of buyers and sellers
When you click on an item for sale, check out the seller profile under "seller information." Make sure their location is within reach, and check to see if you both have mutual friends on Facebook. It could be a warning sign if they haven't been on Facebook for such a long time or if they don't have many friends. Run a search on Facebook. If you see more than one profile with the same name and picture, this is a red flag.
In conclusion, accepting payment on the Facebook marketplace is very important for sellers to receive prompt payment for products from respective buyers and avoid falling victim to funny scams.
You may also like to read our latest article, Marketplace Integration: what is Walmart marketplace integration?