Here is how to create an Instant Dollar Card with Barter by Flutterwave and solve all your transaction issues in one move.
On many occasions, making online international transactions can be frustrating and tedious if you rely on your local debit card, so owning a dollar card can save you. Thankfully, there is an easy way to create a dollar card with Flutterwave Barter card. With Flutterwave Barter card, you can avoid awkward scenarios and save yourself from potential worries.
This card provides a reliable alternative to make an online payment for your foreign transactions. Be it your need to pay for premium subscriptions of Netflix or pay for an online course; it covers all.  
Barter is a money transfer service created by Flutterwave, and it offers you a virtual dollar card for your transactions. Using Barter, you are free from all the limitations of your local debit card. The Barter dollar card is easy to create, and it is a virtual payment tool that allows you to shop online and send money to anyone, regardless of your location.
What is Barter by Flutterwave?
Barter by Flutterwave is an online portal that allows you to perform different financial transactions. You can pay bills, get gift cards, send and receive money, and create a virtual card to ease online transactions on the platform.
Flutterwave is a reliable online payment gateway for individuals and businesses worldwide. The company is poised to make financial transactions seamless for all its users. They are partners with major brands such as Jumia and Uber. To achieve its goals, Flutterwave created Barter as an alternative means of replacing conventional financial institutions.
Related article: How to build email list from scratch in 2022 FREE!
Why Should I Use it?
If you want a better financial transaction platform, free from significant restrictions and limitations, then Flutterwave's Barter is the platform for you. This app gives you the enabling environment to transact with ease.
Also, Barter provides a zero charge fee when you use the platform to send money to any bank account. Talk about saving up on all the annoying charges regular banks charge you for doing the same on their platform. Barter also grants you unlimited transfers to any other bank. Keep in mind that many online banks promise charge-free transactions. In reality, they often peg this to a fixed number. Barter provides free transfers without limits, allowing you to transact as much as you want.
If you are an international trader or someone who transacts in forex, then there is another reason for you to love Barter. The app has no limitations on performing your trading, unlike conventional banks. With constant tinkering of policies by the CBN, Barter gives you the necessary latitude to continue your transaction without restrictions. 
Features of the Barter App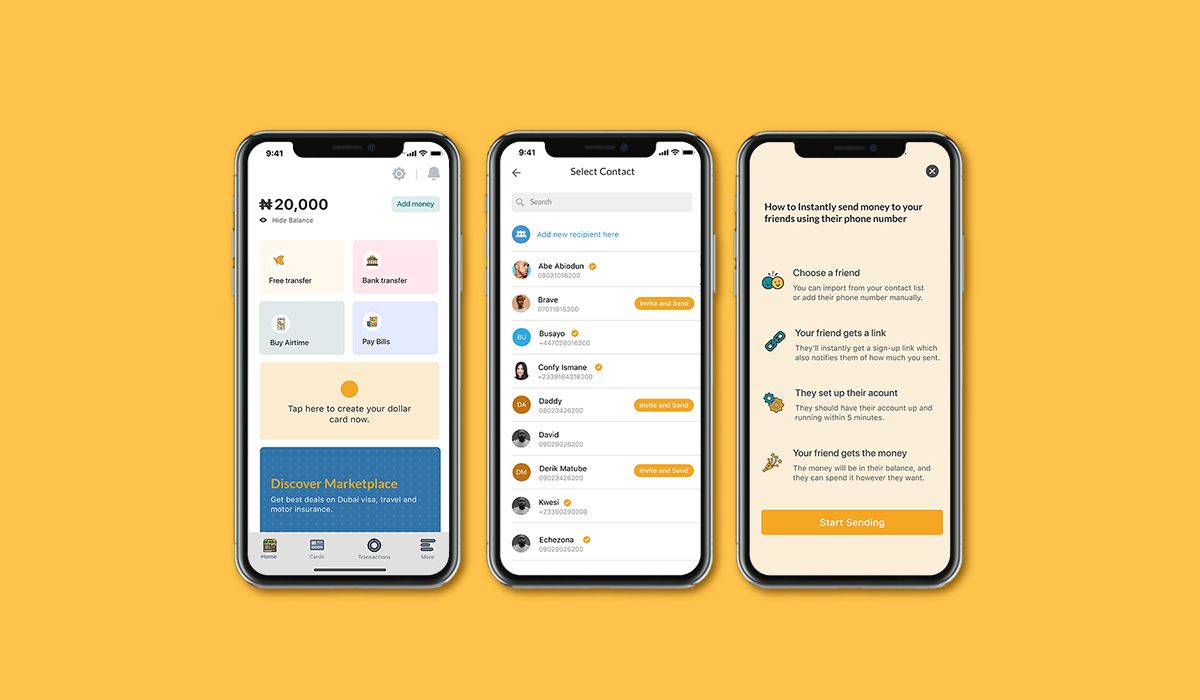 The Barter App promises to be a one-stop-shop for all financial dealings. You can perform a host of tasks on the app, all from the comfort of your mobile device. Here are some of the features of the Barter app to help you: 
1. Add Money
With this feature, you can fund your Barter account to enable you to enjoy the benefits of future transactions. Click on the "Add Money" button located below your balance. A prompt asks you to select which method you wish to apply in funding your account. There are two ways to accomplish this, and I will share this with you now:
Card or Bank Account: You can choose to fund your Barter account via your regular bank account or with your debit card. This option is flexible as you can fund your account through various options. You are allowed to pay with Card, Account, or via USSD.
Funding via debit card requires you to use the automated teller machine to credit your Barter account. While funding via account requires you to input your banking details into the Barter app and with the USSD option, you get a reference code for you to dial on your mobile device. The flexibility offered by these options makes it one of the most preferred means of adding money to the Barter platform.
Bank Transfer: You can also choose to fund your Barter account with the account number generated upon registration. The Barter app gives you an account number, and when you transfer money into the account, it automatically reflects on your balance on the app.
2. Request Money
With Barter, you can request money to your account via a unique link. As a Barter user, you can share this link with friends, family, loved ones, and anyone. The link enables you to receive money from them without sending them your account number.
The beauty of this feature is that you can receive money in foreign currencies as well. It means you need not worry about receiving money from outside the shores of Nigeria. This can be helpful if you have international friends or do business with clients from other countries. Another plus for this feature is confining your "request money" to a specific price. This allows you to request particular amounts instead of vague with your requests.
3. Send Money
The Barter app won't be a complete financial tool if you cannot send money. Thankfully, it has this feature and is intuitive and straightforward to use. You can send money for free on the app, saving you the usual charges associated with the traditional financial institution.
To send money on the Barter app, click on the "Send Money" button. A dialogue box comes up with several banks you can send money to. Barter also allows you to send money to institutions like CowryWise, Piggyvest, Abeg, etc.
4. Buy Airtime
As with conventional institutions, the Barter app allows you to purchase airtime for yourself and your loved ones. You can recharge any amount you wish with the click of a button. To buy airtime on Barter, click on the recharge icon and input the amount you want to purchase and the phone number you wish to recharge.
5. Pay Bills
The barter App is a one-stop-shop for paying all your bills. You can pay for electricity, data services, cable subscriptions, toll gate, streaming services, or internet services from within the app. navigate to the appropriate option and select it to make payment.
6. Virtual and Gift Cards
On can create up Barter, you to five different virtual cards to help you manage your payment process. Barter is not constrained by the ever-changing rules that govern conventional banks, which allows it to operate with much freedom. This can come in handy if you purchase or transact businesses online with foreign counterparts.
You can pay for Amazon, Netflix, eBay, WES, and many others with your virtual dollar cards. There is no limit to how much you can spend with your Barter dollar card, but it's important to state that Flutterwave charges you a creation fee of $2 per card. Personally, this is a small price to pay compared to the amount of time and headache it will save you from transacting directly in dollars.
Barter also offers you the option of using gift cards. Gift cards are specialized cards you can present to friends, family, or loved ones to make online purchases. You can design each gift card to have a specific monetary value. On Barter, you can create a gift card of any amount of your choice ranging from $10 to $50 or any other amount. To make gift cards, Barter will charge you $4 for each.
Getting started with Barter
Undoubtedly, Barter by Flutterwave offers lots of potentials, making it perfectly poised as the perfect financial transaction companion. Thankfully, Barter is available for download for both Android and iOS devices. Head over to their respective stores and get Barter on your mobile device.
After downloading and installing the app, you have to register to get an account on the platform. The signup process is straightforward. Just provide the details as requested, and you are good to go.
How to Create a Barter Dollar Card
Creating a dollar card on the Barter app is easy to accomplish, and it does not require any technical skills from you. Follow the process below, and you will be done in a few minutes: 
Your first step to creating a virtual dollar card is installing the Barter app (see above).

Click on the 

Create new card

 button. The creation process is automatic, and you don't have to do anything.

You can choose to create either a custom card or a multifunctional card.

The custom card allows you to perform specialized transactions; think of them in light of ASOS card and Netflix card. They work for specific platforms. With the multifunctional card, you can use them for all sorts of online transactions, including service payment and item purchase.

To fund your newly created Barter dollar card, you will have to specify precisely how much you want to load into it from your Barter account.
Advantages of Barter Dollar Card
Having a Barter virtual Barter dollar card comes with its perks, and below are a few to interest you: 
1. Impressive Security Setup
When it comes to online transactions, security is a rising concern for many, and I am sure it's also a deal-breaker for you. One worry is the number of those involved in the transfer process in an online transaction. With many involved, the chances of losing your money increase considerably, which you want to avoid by all means.
Thankfully, Barter by Flutterwave is a reputable money transfer service. The platform enforces the most reliable international standard and is under the regulation of top-notch financial authorities. This guarantees Barters optimum security level at keeping not just your money safe but also your personal information.
Lighting Fast Processing Speed
If you transact business online regularly, you know the relevance of fast processing speed to help deliver payments. And if you are new to online transactions, one factor you will do well to consider is the amount of time taken for any transfer service to process your payments. Barter offers you a lightning processing speed to ensure you get more for your efforts when it comes to speed. Whether you are sending or receiving money, instant transaction completion is guaranteed.
2. Absence of Transfer Charges
Having to send or receive money without worrying about shady or exuberant charges is another advantage of using Barter. Imagine paying premium charges for a transaction, only to end with a slow delivery period. But with Barter, you are sure of getting services for free. You get to perform all your business transactions without worrying about extra charges. Barter also lets you make instant international money transfers without incurring any transfer fee.
Conclusion
Performing online transactions such as sending or receiving money can often be tedious. The risks associated with online money transfers make people shy away from them. One platform that has proven to be reliable is Barter by Flutterwave. The platform offers users the chance to create up to five different virtual dollar cards to aid in their online transactions. This card can help you pay for goods, subscriptions, utilities and send money to friends or relatives.
That's it, guys, all you need to know about the Barter virtual dollar cards. Drop your comments, questions, and thought in the comment section, and I will be sure to respond.
You may also like to read, Net@ddress: All you need to know and best alternatives in 2022.