What is a project roadmap?
A project roadmap is a high-level document that gives an overview of a project's major milestones, deliverables, and dependencies. It is typically used to communicate with stakeholders about the status and progress of a project and can give them visibility into what work still needs to be done. It can also be defined as a visual representation of your short-and long-term priorities as a company that helps you plan, build consensus, and communicate high-level decisions. It is best not to think about a roadmap until you have a clear strategy. Your hierarchy of high-level planning, as an ecommerce entrepreneur, should look like the following.
Mission- What are you trying to achieve?
Vision- What does the world look like when you've achieved it?
Strategy- How will you achieve your vision?
Goals- How will you measure your progress towards it?
Roadmap- What do you need to build to get there?
Tasks- What can you do today to move forward?
Most people associate roadmaps with planning. However, they're most useful as a communication tool.

A project roadmap explains why you are building what you are [i.e., your strategic vision] as much as what you're building. This connection helps align teams on a central goal and shows how a product might change and grow over time.  For example, software teams use product roadmaps to point out customer problems [aka goals] that relate to their overall strategy and then prioritize features and bug fixes that solve them. It should be noted that it's a mistake to try and include too much detail in a roadmap. Your project roadmap should mainly focus on why you're emphasizing specific tasks over other ones. Leave the details for your launch plan, the scope of work, and the project schedule.
Why you need a roadmap
Roadmaps are powerful communication tools, no matter how solid or agile your team is. Several significant benefits come from using one—specifically, the project roadmap.
A project roadmap outlines your project's objectives; it defines and lays out the project's aim to provide a sense of where you are going and where you need to be at a certain point on the journey. A project roadmap paints the big picture by helping everybody on your team see what needs to happen before hitting the main goal.
For instance:
If the goal or objective is to grow your Instagram followers in 6 months. The project roadmap will outline specific steps during those six months that will ultimately lead to the goal.
A project roadmap shows precisely what project deliverables are expected. Via the project roadmap, deliverables of all kinds can be established and tracked even before the kickoff meeting for a new project. Clearly defined deliverables and having them assigned to the right people even at this stage provides a better overview of the project and allocates the right resources and time. This can also show potential blockers and unavailability ahead of time.
A project roadmap builds trust and assures buy-in for your project's stakeholders. When you present a project roadmap before the scheduled kickoff of a project, the view of the scope, timeframe, and allocated responsibilities show clear-cut planning and management. That way, expectations are managed, and trust is acquired for the people on top. Presenting a well-crafted project roadmap also offers confidence in the project and the manageability of execution.
Believing the project roadmap to set the right objectives and show the way ahead provides satisfaction to the stakeholders that the project will meet the business expectations. Creating a project roadmap helps everyone stay focused on the right thing- the team on the execution of the goals and the stakeholders-on overviewing without too much interference.
RELATED ARTICLE: How to become an ecommerce entrepreneur.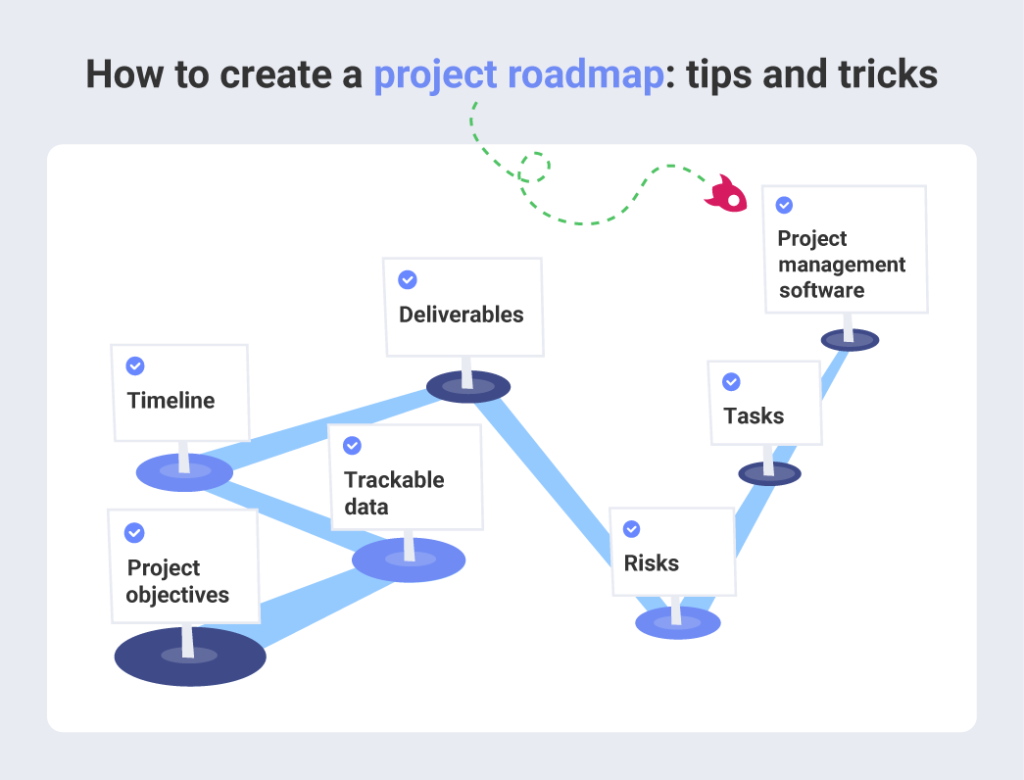 A project roadmap needs to be adequate to fulfill the purpose for which it is created- to visualize a clear plan for everyone involved. Several components need to be present for building a helpful project roadmap. Here are some tips and tricks for creating and making the perfect project roadmap
1. Define Project Objectives
The only way to track the progress of a project is to define clear and measurable objectives. It could include what the messaging will be, the project target audience, and the scope and timeline of the project. Once these trackable objectives are present, it gives the team peace of mind and allows them to administer their time correctly.
2. Identify What Trackable Data You Will Follow During the Process
Identify what and how you will measure different project points, milestones, and campaigns that are present in the roadmap. By setting relevant data points and knowing what to track, your team will be able to react promptly when they need to course-correct.
3. Set a Clear Timeline of the Project
What needs to happen and when must be one of the most important things at any project milestone. In your project roadmap, you need to have this established and visually represented so that there is no confusion. Think of it as your most crucial project calendar that all the critical people involved will stick to.
4. Specify All Deliverables and Involved Individuals
In the roadmap, there is an essential need for clarity of dependencies, task management, and deliverables for the project. Link dependencies and note all the key team members that will take on creating the deliverables, spread on the timeline.
5. Project Risks and Needed Resources
Your project roadmap needs to provide an overview of potential obstacles and blockers during the execution of the project. It's also good to list all required resources- the experts you will need and the material base that these experts will need to do their jobs.
6. Tasks and Assignments
The efficient project roadmap should contain all tasks and subtasks on the project, and they should be assigned to the specialist responsible for the transparency of ownership
7. Project Management Software
Although some use a project roadmap template to create their roadmap, project management software is a better idea because it can provide updates on everything current and help people never miss anything from the journey. This type of software needs to give a "one-page" overview of the project and still allow users to work on a task level and provide their updates when something is completed, delayed, or blocked.
Examples of Project Roadmap
Here are some examples to have a better and more nuanced understanding of how a project roadmap works for smaller and bigger projects alike. Project roadmaps could apply to anything but are most often used in projects connected to software development or marketing campaigns with a project company or service.
– Marketing Project Roadmap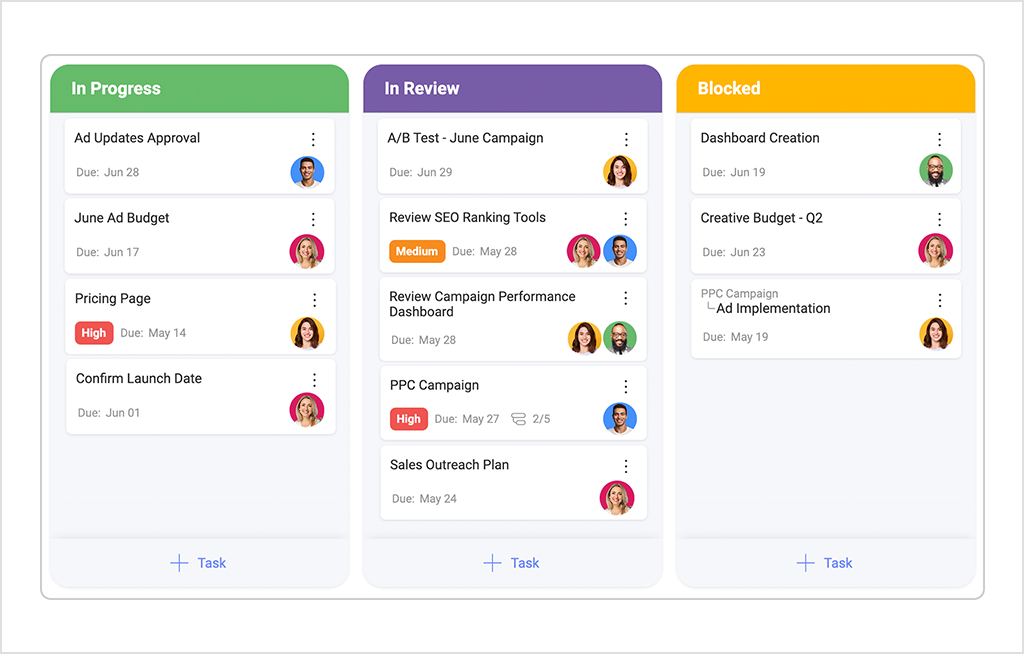 One example of a roadmap is a marketing project roadmap; for this kind of project roadmap, you need to present all the pillars you usually do in a practical project roadmap, things like timeframe, tasks, key people involved, dependencies, and objectives. Here are some tricks that can be applied to provide more visibility to your roadmap.
-Organization of activities by category
-Organization by day, week, and month
-Organization of deliverables by type [design, content, creative, etc.].
– Website Development Project Roadmap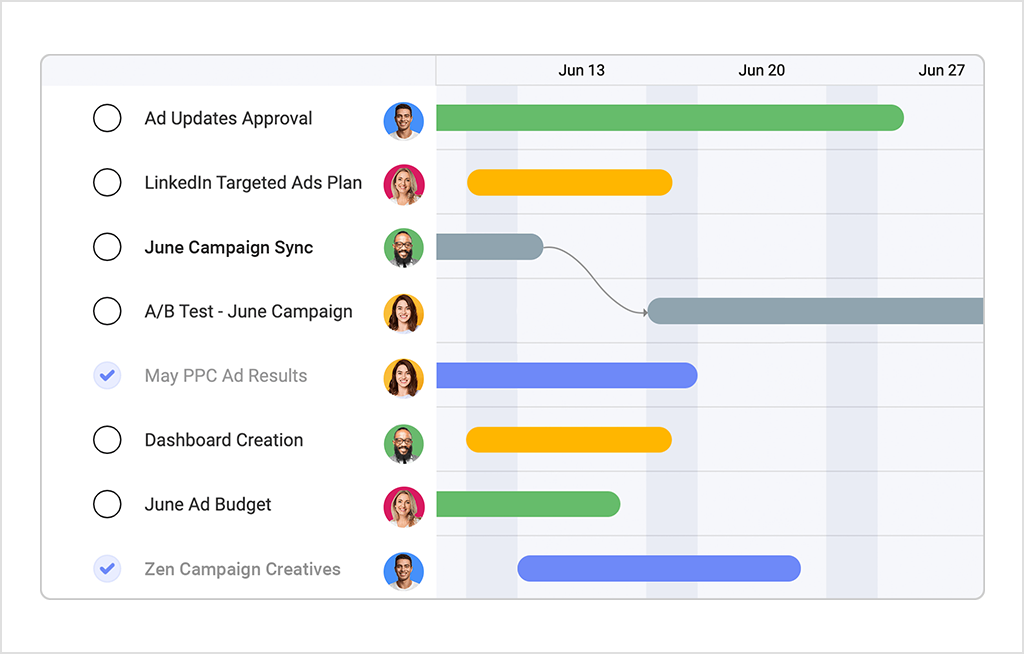 In a website development project, there are a lot of dependencies and potential blockers, so it's good to have that outlined in a project roadmap. It's also usually spread out in a more extended period, so it's good to list all milestones and see in one glance who does what and when even before you start. Below are some specific tricks to conduct your best roadmap for website development.
-Organization per multiple checkpoints [besides the main timeline]
-Organization by a clear hierarchy of tasks, subtasks, decision-makers, and reviewers
-Organization that has all the resources and data on hand
– A Product Launch Project Roadmap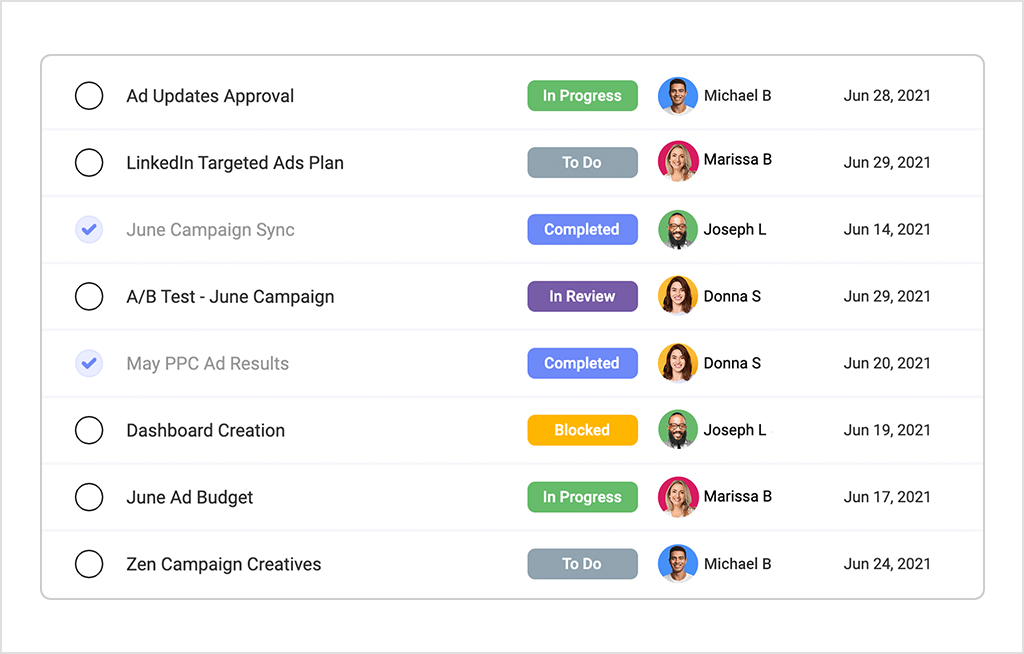 With a product launch, you need most of the same components that make your roadmap useful but here are some specifics you can organize your roadmap better.
-Organization by milestones with specific targets
-Establishment of measurable data and desired outcome for each one
-Outline of objectives, including communication by a team, task, etc.
What is the difference between a Project Roadmap and Project Plan?
While there could be some confusion relating to the difference between a project roadmap and a project plan, it's a simple but essential distinction; you get a high-level view of your project with a project roadmap. A project plan's goal, on the other hand, is to provide a clear overview of what must happen and, in that sense, is like the backbone of the projects. It goes into detail about what was previously outlined. The project plan should also be able to address all the specificities around schedules, budgets, and risks and contingency plans for avoiding problems and delays. If your project roadmap is a map, your project plan is a magnifying glass through which you can see every bit of the road.
How to Use Your Project Roadmap to Conduct an Effective Project Kickoff
Once you've successfully built a roadmap, your project kickoff is the next course of action. Your simple snapshot of project work can help ensure stakeholders and project contributors develop mutual understanding. Here are some objectives to keep in mind as you prepare for your next kickoff meeting
1. Build a sense of alignment and set realistic expectations.
Before too much hands-on work is underway, gather stakeholders and your project team and use the opportunity to help build relationships among these key contributors. Your roadmap can be the visual cue to imbue everyone with a shared understanding of the big picture. When everyone feels a shared sense of purpose and expectations are clear upfront, you will build a solid foundation to help your team weather the storms that can arise and other unanticipated obstacles.
2. Establish and agree upon clear goals
Your team will greatly benefit from being able to see and work from clearly communicated and established goals. When your project is in full swing and prioritizing duties feels like a challenge, empower your team to come back to the roadmap and reassess how their decisions and tasks fit into your work's greater picture and purpose.
3. Identify critical resources and put faces to names.
Have your team introduce themselves to new stakeholders or people from other departments at the kickoff meeting. It's helpful to connect faces and names and give everyone the time to share working and communication preferences, thus leaving the playing field for an equitable working environment.
Tools for creating a project roadmap
Project management software
Gantt charts
Product roadmaps
Creating a project roadmap in Smartsheet
Project roadmaps in Jira
Roadmapping software
Project management templates
Project management software: There are a variety of project management software solutions available on the market that offer roadmapping capabilities. Some popular options include Basecamp, Trello, and Asana.
Gantt charts: Gantt charts are a type of bar chart used to create roadmaps. They typically display project tasks as bars and allow you to track each task's start and end dates.
Product roadmaps: Product roadmaps are another type of roadmap that can be used for projects. They typically focus on the features and timeline of a product release.
Creating a project roadmap in Smartsheet: Smartsheet is a project management software that offers roadmapping capabilities. To create a roadmap in Smartsheet, you will first need to create a new sheet. Then, add a task name column, start date column, and end date column. Next, add your tasks and dates. Finally, click the " Roadmap" button to generate your roadmap.
Project roadmaps in Jira: Jira is a project management software that offers roadmapping capabilities. To create a roadmap in Jira, you will first need to create a new project. Then, select the "Roadmap" tab. Next, add your tasks and dates. Finally, click the "Create Roadmap" button to generate your roadmap.
Roadmapping software: There are a variety of road mapping software solutions available on the market. Some popular options include Roadmunk and Aha!
Project management templates: There are a variety of project management templates available that can be used to create roadmaps. Popular options include the Project Management Template Pack from Office templates and the Roadmap Template from Smartsheet.
You may also like to read our latest article, Ecommerce Entrepreneurs: What to Do If Toll-Free Forwarding Is Disabled by Frontier.