The best Shopify stores find the perfect balance between style and functionality. Creating a concise Shopify store name is a lot like the design of your store in that it should reflect who you are as a business. But choosing a name for your online store can be challenging if you don't know where to start.
If you're not sure where exactly to begin picking out what branding strategy works best for your store and which doesn't, you would want to read this article and find out how to choose the right brand name.
In this article, I'll discuss what goes into creating and getting an effective Shopify store name for your online business. Also, this piece will give you some valuable tips and examples on how to make one yourself.
What's in a brand name?
Your brand name is the identity of your business. It's what people will identify you with, and it can be a valuable asset for your company. The best way to think about this is in terms of real-world terms: A brand name is like an address label or a business card that people will remember you by, so make sure it stands out.
This seems like a pretty obvious point, but there are plenty of companies out there who don't have an effective brand name strategy in place. This might seem like an easy fix at first glance, pick any word out of the dictionary and call yourself that, but there's more nuanced than that in choosing a great name for your store.
Importance of picking the right brand name
Your brand name is the first thing potential customers see, remember, and associate with your business. It's a reflection of your business, and it can make or break your success.
Suppose you're in the process of creating a new Shopify store or considering changing the brand name that's already associated with your store. In that case, there are several things you should consider before making a decision.
Things to Consider When Creating a Brand Name for a Shopify Store
When creating a brand name for your Shopify store, it's essential to consider all of the following:
The name should be short and easy to remember.

It should be easy to spell and type.

In the same vein, it should be easy to pronounce.

Should be void of special characters that are complex or hard to comprehend.

Should be easy to read, and you can't get more simple than one-word names.
Tips for Creating a Unique Brand Name as a Shopify Store
When picking a Shopify store name, there is no point rushing it. It's best to take your time and thoroughly evaluate your options before settling for one. To help you out, follow these tips:
1. Define Niche and Use it in the Brand name
Your niche is the area of your business in which you are the expert. It gives your brand a unique selling point and helps you stand out from other similar companies. You can also use it to introduce yourself to potential customers by highlighting what makes you different from everyone else.
You need to keep this in mind when choosing a name for your Shopify store because if someone were searching for products related to your niche, they would probably search for keywords related to that specific niche.
2. Pick a memorable name
Keep your brand name short and simple but also memorable. You mustn't use a name already taken by someone else, so check out the Shopify app store before settling on your first choice.
Try to keep it under 20 characters, including spaces, as most people won't bother typing more than that into their browser search bar if they're looking for products from your store. Trying something different with your brand name may be tempting, like creating an acronym out of the letters or using an obscure word that may confuse buyers.
But these kinds of names are often difficult for people to remember, and they can also make you seem less trustworthy because they seem made-up. Don't be too clever when choosing a name; pick something simple and easily pronounceable without having any hidden meaning other than what is evident at first glance.
3. Keep the name short and simple.
The name you choose for your brand is essential, but it can be surprisingly tricky to get right. Keep the title short and simple. Doing this makes it easier for customers to remember and share your brand identity with others online or offline.
For example, instead of using three words in the business's title, such as "Great Products," try something like "Products." This allows users to remember these types of companies more quickly than ones with long titles they need to write down every time they want to refer back later.
Avoid using hyphens or numbers in your company name because these complicate the process for potential users.
ALSO READ: Shopify Theme Development: 4 Steps To Get Best Results.
4. Check Domain Availability
If you have an idea of a name you want for your Shopify brand, it's wise to check for its availability before settling for it. Thankfully, there are several ways you can check the availability of a domain name online.
You can use search engines such as Google or Bing and type in your Shopify store name. If other users are already using the name on the internet or if any of those domains contain either your particular brand name choice or something similar enough to trigger an association between them, it will be flagged.
In such an instance, you have to pick another name so your customers won't be confused when searching for your store online.
5. Focus on your Brand Goals
Your brand identity is a set of characteristics that describe your brand. The logo, colors, and fonts are just the beginning. Brand identity includes everything that makes up your store's visual presentation and feels. For example, it may include:
How do you talk about your products or service. For example, do you use industry terms?

The quality of images and videos used on your website or blog.

The way you introduce yourself to customers in social media posts.
Your brand identity is not just what makes up the package; it's also what sets you apart from other brands in the marketplace. You want potential customers to see something extraordinary when looking at any element of your business.
6. Use Shopify Business Name Generator
Shopify Business Name Generator is a free tool that helps you find the right name for your business. It's easy to use and can be accessed online, meaning you don't have to download or install the software.
When you enter a word or phrase in the box, it will return hundreds of related words based on what people are searching for on Google when they search that phrase. You can also add keywords to help narrow down your results.
How to use Shopify name generator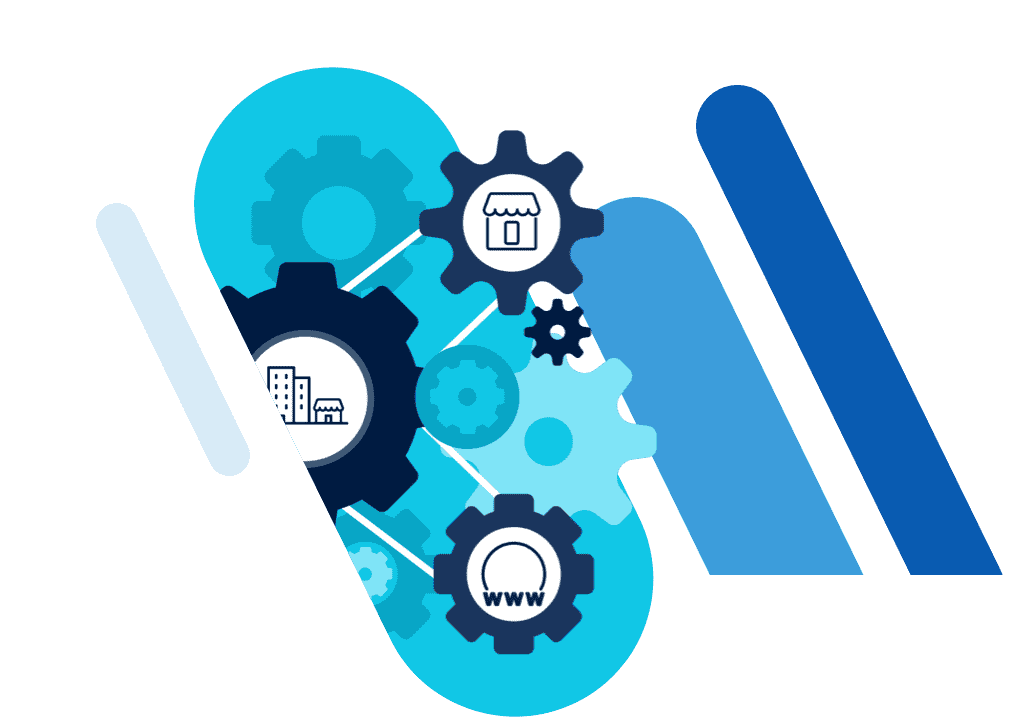 Click the "Generate Ideas" button to use the Shopify name generator. This will open up a blank text box where you can enter your desired name. Then, click on the "generate ideas" button to get started.
When you enter your desired business name and click "Generate Ideas," you will see a list of names similar to yours appear in alphabetical order. You can review these results and select one by clicking on it or pressing enter when highlighted.
You may also choose to add this newly suggested name as one of your favorites by clicking on the "Add To Favorites" button at any time during this process before clicking save at the top right corner of your screen.
Optimizing your use of Shopify business name generator
The Shopify business name generator makes the process of getting a Shopify store name for your business simple. That said, it still requires a lot of work on your part. The generator suggests hundreds of phrases which can often make picking a tricky action. Here is how to optimize the process and make your decision faster:
1. Organize and review your ideas
Once the generator creates a list of possible Shopify store name ideas for you, the next step is to create a mini list of potential names. You can do this by brainstorming with friends, family, and colleagues or by thinking about it on your own. Try to come up with at least ten names for your store.
After you've created your list, please review it and pick the best one for your Shopify store. This can be done by referring to the above metrics for a Shopify store name.
2. Think outside the box
If you want to stand out in the world of Shopify stores, you have to think outside the box. So many people are using their website as a place to sell their products. You need a way for people to see your store and know it's different from everything else.
3. Ask for help
If you don't already know others, who can help, ask your friends and family. They may be able to recommend possible brand names or give you some leads.
Take advantage of social media if the above options aren't working out. Post on Facebook and other networks asking if anyone knows a brand name designer or has a recommendation for you.
You should also reach out to experts in the field of brand names who can point you in the right direction; this could be people like graphic designers or marketing professionals. You might even want to reach out directly to brands similar to yours but not direct competitors; they could have some good ideas about how they came up with their names.
4. Research names of stores similar to yours
Shopify has its brand name generator as part of the store setup process. Enter your idea into the generator, then click "Generate Ideas." If you don't like this process, you can conduct your research. Some ways to do this include:
Check out the names of stores that are similar to yours.

Check out the names of stores that carry similar or even identical products as you.

Check out the names of stores with a similar target audience and business model.
Other online business name generators
Thankfully, the Shopify business name generator is not the only tool available online. Several other tools help you come up with beautiful yet concise names. Here are some you can count on:
– NameStation
The NameStation platform is an excellent tool for creating new brand and product names. It's a handy tool for generating ideas for your Shopify store and can be used on its own or in conjunction with the other resources we've listed here.
– Domainr
You can count on the Domainr tool to help you find available domains and gives you plenty of ideas on how to create new ones. It's a bit different from NameStation in that it gives you more flexibility when picking out a domain name; however, this can also make things more complicated if you don't know what you're looking for.
ALSO READ: Top 10 Ways To Sell Your Skills Online In 2022.
Conclusion
You have a few options for picking the perfect Shopify store name for your store. You can use a Google search tool or look at other websites in your industry and see what terms they are using.
You should avoid having spaces in your brand name because it will be difficult to find when people type it into search engines. If you want to include special characters, make sure they are easy to remember so that customers can find them quickly.
It would help if you also avoided words that are too long as potential clients will find it difficult to type them out every time they want to check out from your site. Okay, that's it. Now you have the information you need to pick a great brand name for your Shopify store.
You may also like to read our latest article, Top 9 Virtual Assistant Skills to be Successful.