MCProHosting is the world's most prominent leader in providing game servers. It aims to grant premium service supported by a group of people willing to go all out to ensure users have nothing but the best regarding their experience. Here are some of what it provides:
MCProHosting services
1. Hardware
It has a fleet of servers that uses premium hardware with dial E5 2600 series processors, DDR4 ECC RAM, and SSDs that run on each server to give ultimate performance.
2. Storage
There is unlimited access to disk space and several other resources that the server uses to give users the best experience attainable.
3. Backups
Daily server backups are stored automatically at no extra cost. It helps to keep your work and your friends and community safe and secure as it is online.
4. Protection
There is assurance that your server is always safe. It ensures that the plan comes with DDoS protection, giving reactive 10 to 30 GB/s mitigation.
5. Interface
It is easy to create a new MCProHosting account. You get a suite that has premium add-ons. These are not mandatory for you. However, most of them could be pretty helpful. The company has a control center panel explicitly designed for Minecraft and other game servers. It is spelled out and contains many configuration tools to help users of all skill levels. For example, you can switch between games and add and remove games with just a few clicks.
6. Support
MCProHosting grants excellent customer service. There is 24/7 support that is available online through ticket submission. Live chat is also on from 9 am to 1 am EST daily. The chat agents are always ready to assist you with your needs as they offer timely responses to your queries. There are also self-help resources and community support.
RELATED ARTICLE: How to Download Spigot plugins for Apex Hosting: A Comprehensive Guide.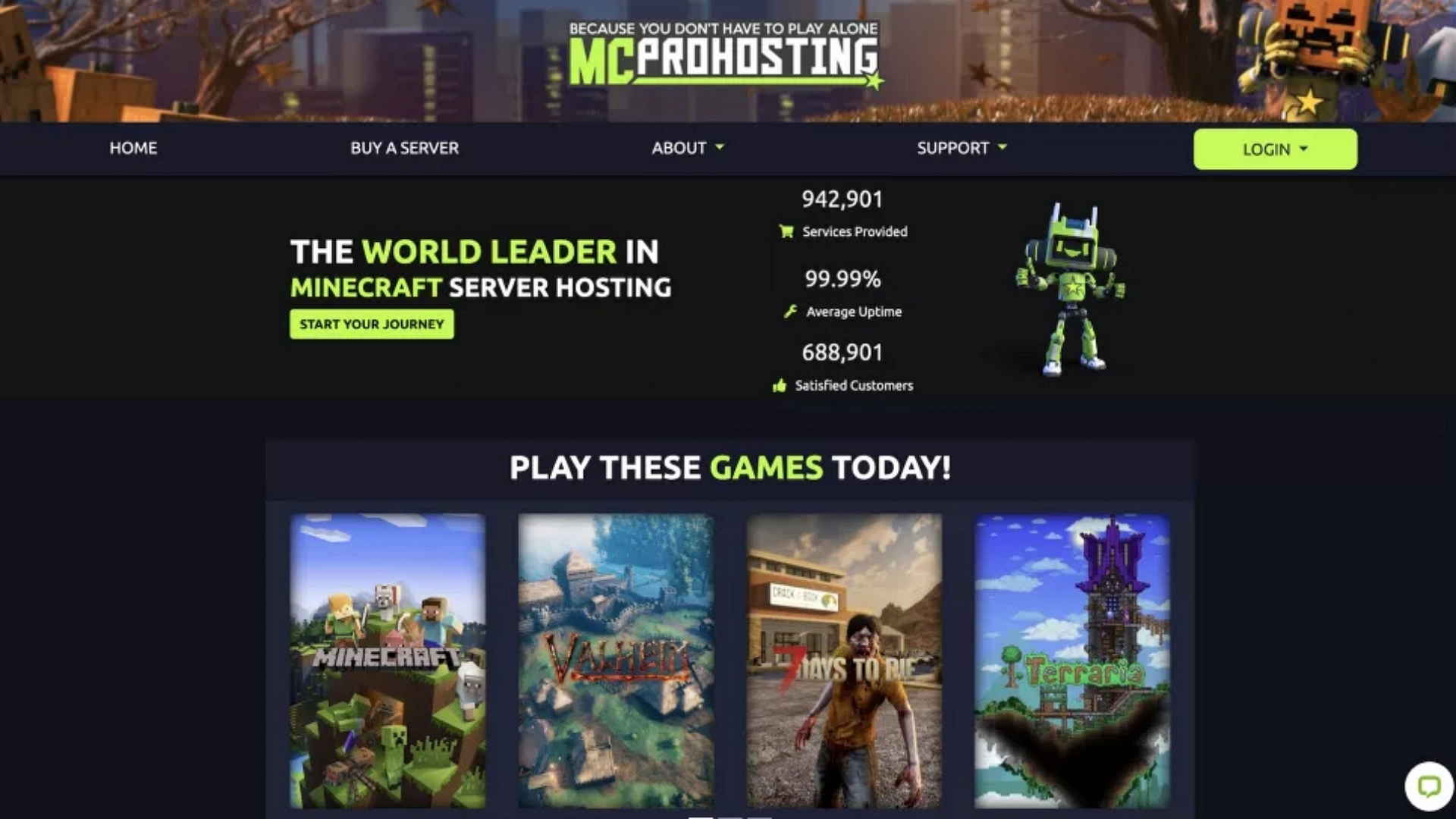 Here are some commonly asked questions about MCProHosting:
– Is MCProHosting Free?
There is a seven-day free trial on the plan known as the Villager plan and a deal that costs $1 in the first month. These options are only available to new clients.
– Is there full FTP access?
There is full access to server files with the in-house Web FTP browser that features drag and drop, highlighting syntax and making it easy to manage server files.
– Why choose McProHosting?
Having technology leading in the industry and software with guaranteed support around a wide range of locations, MCProHosting is a Game Server Hosting for you. It focuses on giving the best by granting outstanding customer service to assist along your journey.
MCProHosting grants a selection of plans on Minecraft along with three in one plans that let you install any ten supported games. The plan ranges from $7.99 to $99.99 a month, including unlimited storage, DDoS protection, and unlimited file access.
There are plans within the range of $24.99 to $74.99 a month. You can use them with all games that support MCProHosting, including Minecraft. They also let you backup, restore, and switch between games by clicking a button. There is server management that allows you to sit and enjoy your game without worrying about the state of your servers.
Alternatives to MCProHosting
If you are searching for something you think is more affordable, Hostinger hosting service starts at $8.95 a month, from which you will gain excellent customer service and the power of one of the world's largest web hosting providers.
Another option is Shockbyte, known to have excellent uptime and a streamlined setup. You can make payment to have a team member visit and help you set up/configure your server for you. It is possible to configure a custom plan with the resources you require, as Shockbyte gives more flexibility than MCProHosting. If you search for a combination that has flexibility, support, and is easy to use, look no further as Shockbyte is the choice for you.
You can also see a longer list of other options here.
In conclusion, with all things in mind, we can say that MCProHosting is one of the world's Minecraft hosts with the highest rating. Its prices are slightly on the high side, and there is no free version to use to test run the platform.
For instance, you stand to gain from one-click mudpack installation, complete management with high-end plans with a selection of optional add-ons. The summary, however, is that if you are in search of high-end Minecraft or multi-game servers, MCProHosting is what you should pick.
You may also like to read our latest article, 7 Uses of AirWatch: How to Keep Your Business Mobile.