Personal capital VS Betterment is a well-known online investment management firm. Personal Capital grants a free personal finance dashboard that lets you keep track of your money and analyze your investments. It also presents a paid investment management service and also gives financial advice. 
Although personal capital and Betterment may appear alike on the surface, there are some remarkable differences in the services they offer through financial advisory platforms. You will determine which is a better fit depending on the kind of investor you are.
If you want the low fees of a trustworthy robot advisor, then Betterment may be a good option for you. If, on the other hand, you are willing to pay more to have access to a human advisor, then Personal Capital may be your best bet.
Personal capital
It began in 2009, using a combination of human advisors and a technology-driven investment platform. The charge is less than what most traditional advisors do. Personal Capital advisors work to ensure your funds are in one of several pre-designed ETF portfolios.
It has a finance dashboard that is free to all users irrespective of whether or not they pay for its investment management service. About $100,000 is what you need in assets to qualify for the lowest investment product tier of Personal Capital.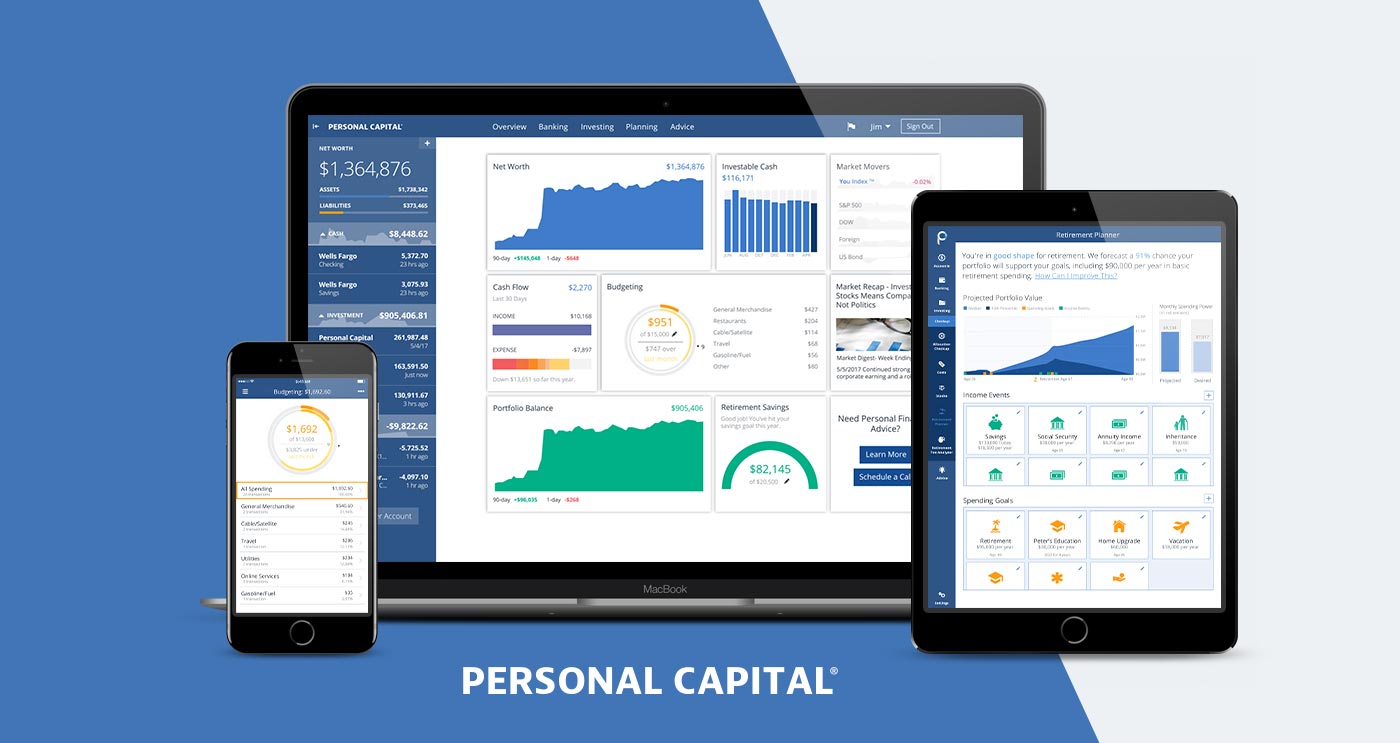 Betterment
Since its establishment in 2008, Betterment has been the first significant robot advisor. Based on a series of questions regarding your investment timeline and goals, your funds are into a pre-built portfolio of exchange-traded funds (ETFs) that match your needs. It houses about $16 billion in assets under management.
Because it uses a computer most of the time, it has extra benefits like tax-loss harvesting. You can open a basic account without a minimum balance. A premium account that comprises access to a human financial planner charges a higher fee and needs at least $100,000 in your account. You can open an account with zero balance to check out how things are without being charged a fee.
RELATED ARTICLE: Personal Capital vs YNAB: Which is the Best Budgeting Tool for You?
Similarities between personal capital and Betterment
1. Accounts they offer: They both provide taxable individual and joint accounts and traditional and trust funds.
2. Rebalancing of portfolio: They both offer automatic rebalancing of your portfolio to maintain your ideal asset allocation.
Socially responsive investing: These two services offer socially conscious investing options.
Differences between personal capital and Betterment
| | |
| --- | --- |
| Personal Capital | Betterment |
| The most noteworthy feature of Personal Capital software is the free access to digital financial analysis tools. | Betterment is open to anyone irrespective of the amount you invest. You do not have access to a human advisor. |
| If you have a minimum of $100,000 in assets, you can qualify as part of the professional investment management service. | You do not need an onboarding process and an intelligent portfolio management system to use it fully. |
| From having a Personal Capital account, you will work with a financial advisor team to guide your funds into a portfolio that fits your needs. | You do not need to know so much about investing in having a well-built portfolio. |
| You can reach out anytime you need help or guidance and access more services as your portfolio gets to the $200,000 and $1 million tiers. | |
During the sign-up process, you will answer basic questions about your goals centered on retirement, paying for college, or buying a home. Based on your information, Betterment will suggest a percentage of stocks and bonds that you can change if you wish.
Personal Capital VS betterment: Which is better?
Looking on the surface, Personal Capital and Betterment both offer similar services. However, both services are Robo advisor platforms created to help you manage your investments. But going into detail makes the differences very obvious.
Anyone that seeks to have a straightforward Robo advisor will discover what they want in Betterment.
What if you want to access a multi-tiered platform that lets you aggregate your assets, budget your funds, and tap into an investment portfolio? In that case, the Wealth Management service granted through Personal Capital may be better.
The choice between Personal Capital vs. Betterment stems from whether you are willing to work with a Robo advisor or a personal wealth management service.
Personal Capital features VS Betterment features
What is the thing to look for when choosing between these two investment choices?
Here are some of the significant features of Personal Capital VS Betterment:
1. Portfolio Selection
Any investment service offers the most important thing is the portfolio they create for you. Personal Capital and Betterment go about building your portfolio in different ways.
Personal capital grants an alternative to setting up your portfolio through an algorithm. The process begins when you link all of your external financial accounts. It allows you to see the area your finances stand before diving into an investment strategy.
After setting up the information, you will get a call from your advisor to help you create a portfolio that matches your goals. The approach aims to help you actualize your investment goals with a personalized portfolio.
2. Investment strategies
Using either Personal Capital or Betterment, you stand a chance to enjoy automated investment management. You can rely on both services to take care of the little details of managing an investment portfolio without constantly supervising it.
3. Access to financial advisors
Personal Capital and Betterment grant access to financial advisors. However, there are different qualifications to gain access to each platform.
Betterment grants access to financial advisors to assist in making big moves. You will, however, have to pay a minimum of $299 to have a 45 to 60-minute advice session if you have less than $100,000 under management.
If you have more than $100,000 as investments, you can access unlimited Premium advice from professionals.
4. Management Fees
The fees for managing your investments have a significant role in decision-making. With that said, you must consider what you are getting for the prices you pay.
Betterment is better when it comes to pricing. The fee range is from 0.25% to 0.40%, which is quite reasonable. Although, your access to a human, a financial advisor, will be somewhat limited.
Personal Capital has just one pricing tier of 0.89% for the first $1000 000 you have under management. You can start to benefit from lower fees as your investments grow. According to the company's policy, you will pay 0.79% for the first $3 million, 0.69% for the next $2 million, 0.59% for the next $5 million, and 0.49% for anything below $10 million.
Who does Personal Capital suit best?
If you have a minimum of $100,000 to invest and want access to a team of financial advisors, then Personal Capital is your best bet. Although it has a higher fee compared to Betterment, you will gain more by way of having a personalized portfolio and the ability to contact the financial advisor that is solely dedicated to you whenever you so please.
Personal Capital also has free Financial Tools available. These tools can monitor and guide your progress toward financial goals.
Who does Betterment suit best?
Betterment is ideal for investors who want to dive in with a small upfront investment. You can begin with the available funds because there is no minimum deposit required.
It will be possible for you to manage multiple financial goals using the Betterment platform. The robot advisor will take care of the details of investing. You can reach out for a helping hand to a financial advisor if need be.
In totality, Betterment is the right choice if you are not willing to pay more to have unlimited access to a financial advisor. You will also need to be comfortable with a Robo advisor that handles the ins and outs of your portfolio management.
In conclusion, Personal Capital and Betterment have features that could help manage your portfolio with fewer hands and attention. One thing to know is that either can help you prepare to have a blissful financial future.
You may like to read our latest article, Trust Badges And How To Add Them To Your Shopify Store.