Salesforce is the world's number one and one of the most popular CRM (customer relationship management) software. However, it's not the only one. There are several Salesforce competitors that you should know. Salesforce helps to integrate sales, commerce, service, and IT teams to work together as one to meet customer satisfaction.
What does Salesforce do?
Salesforce, with its several editions, does quite a several things. It offers a great tool that can be adapted to fit just any size and type of business, and its solution comes with lots of features that are so robust that there is a Salesforce university you can attend to get the most out of this software.
It brings companies and customers together by uniting your marketing, sales, commerce, service, and IT teams from anywhere through one integrated CRM platform that powers the entire ensuite of connected apps. It enables you as the overseer to focus on the essential things, keeping your business stable and being focused on delivering exceptional customer experiences.
Why go for Salesforce competitors?
Salesforce is the leader in the CRM industry as it accounted for 19.5% of the CRM market worldwide as of December 2018. Its market share also increased by 18.4% in 2019, keeping it way ahead of its competitors.
However extensive Salesforce is, many Small and Medium businesses want a good CRM without all the extras. Others may not have the budget for a product offered by Salesforce and seek more affordable options from the Salesforce competition. Also, as with any product, some people have encountered bad experiences with Salesforce and may want to switch.
Even though you have decided to look for an alternative to Salesforce, it can be tricky to pick the right CRM solution for your business. Every business requires a different customer relationship strategy which brings us to the question. What should you look for in a Salesforce alternative?
RELATED ARTICLE: 10 Best CMS Vendors: A Comprehensive Guide To Making The Right Choice.
Features of Salesforce
1. Reporting and Analytics
The requirement of a business that is the most standard is the need for analytical data and reports. Data-driven making enabled by analytics is the most crucial factor that helps build, render and follow the right strategies for developing and maintaining customer relationships. Salesforce gives high-grade reports, which are helpful but sometimes complex for teams to understand. In contrast, some Salesforce alternatives provide much more simplified, in-depth, and relevant insights, which play a vital role in developing marketing strategies. When taking on multiple tasks at once, some jobs are time-sensitive. Quickly analyzing information in an intuitive and simplified way through reports and dashboards helps teams deliver better ad faster results. Data that is easy to understand empowers you and your team members to strategize and handle customer relationships more effectively.
2. Customization
Customization plays a vital role throughout the entire process of marketing and sales management. The ability to personalize communications adds excellent value to the customer experience. While customization offered by Salesforce is impressive, it is also challenging to use, and additional customization options can be expensive, especially for Small and Medium Businesses. Businesses must, however, look for software that is easy to use and does not overstretch their budget. Having customized marketing and communications campaigns can work wonders for a brand, especially in getting new leads and retaining existing customers.
3. Customer support
It is one of the primary features to look for in CRM software. Maintaining and catering to existing customers goes a long way for businesses of all sizes. While Salesforce does a great job by helping to provide customer support, having those features can be expensive for companies. It offers free support for some parts and provides basic queries that you can sort with the help of Salesforce University. Most problems require an additional purchase for the service.
The first rule of any successful business is to retain existing customers and cater to them when needed. The ideal software should give an affordable and efficient customer support solution that best addresses your customers' needs.
11 Top picks of Salesforce CRM competitors
Some alternatives to Salesforce CRM are as follows:
1. Pipedrive
It can be intimidating to deal with the onboarding process for new software. If you are worried about the process, Pipedrive may work best for you. When comparing Pipedrive to Salesforce, the former is one of the most affordable CRM options, and it is easy to use with a lot of customer support and even 24/7 coverage.
Pipedrive grants feature enables email marketing activities, goals management, and lead generation. It can also break data down into effective reports.
2. Insightly
It is a cloud-based tool for mid-sized businesses that gives a range of marketing tools, including advanced marketing automation that can elevate your business to the next level.
Insightly when compared with Zoho CRM, it will enable your team to manage leads, projects, and sales efficiently and grant the analytics you need to identify ways to improve the way you do things.
3. HubSpot CRM
HubSpot is a vicious competitor to Salesforce. The HubSpot CRM may be the ideal alternative if you operate a one-person kind of business. It is easy to use, onboarding is straightforward, and it gives a free version loaded with features.
It comprises powerful reporting tools, so you can crunch the data and figure out if you are spending your time as efficiently as possible. The Hubspot dashboard shows statistics in real-time, so you know your stance with leads, and you can sort the dashboard in any way that you prefer.
4. Vigier sales CRM
Although Salesforce for small businesses is not bad in itself, Vtiger poses an excellent option for small operations trying to streamline their communications and get more organized in sales and marketing efforts.
It gives handy automation features to help increase efficiency and create time for other activities. It is pretty affordable when compared to other CRM options, and it comes with lots of features for the price.
5. SugarCRM
It is a robust open-source platform best suited for large enterprises with their development teams. They can take this powerful engine and adapt it into something specifically made for their business.
It has a reasonably steep learning curve with a huge list of features not for minor operations. It is an excellent choice if you wish to boost the efficiency of your large sales operation.
6. Zoho CRM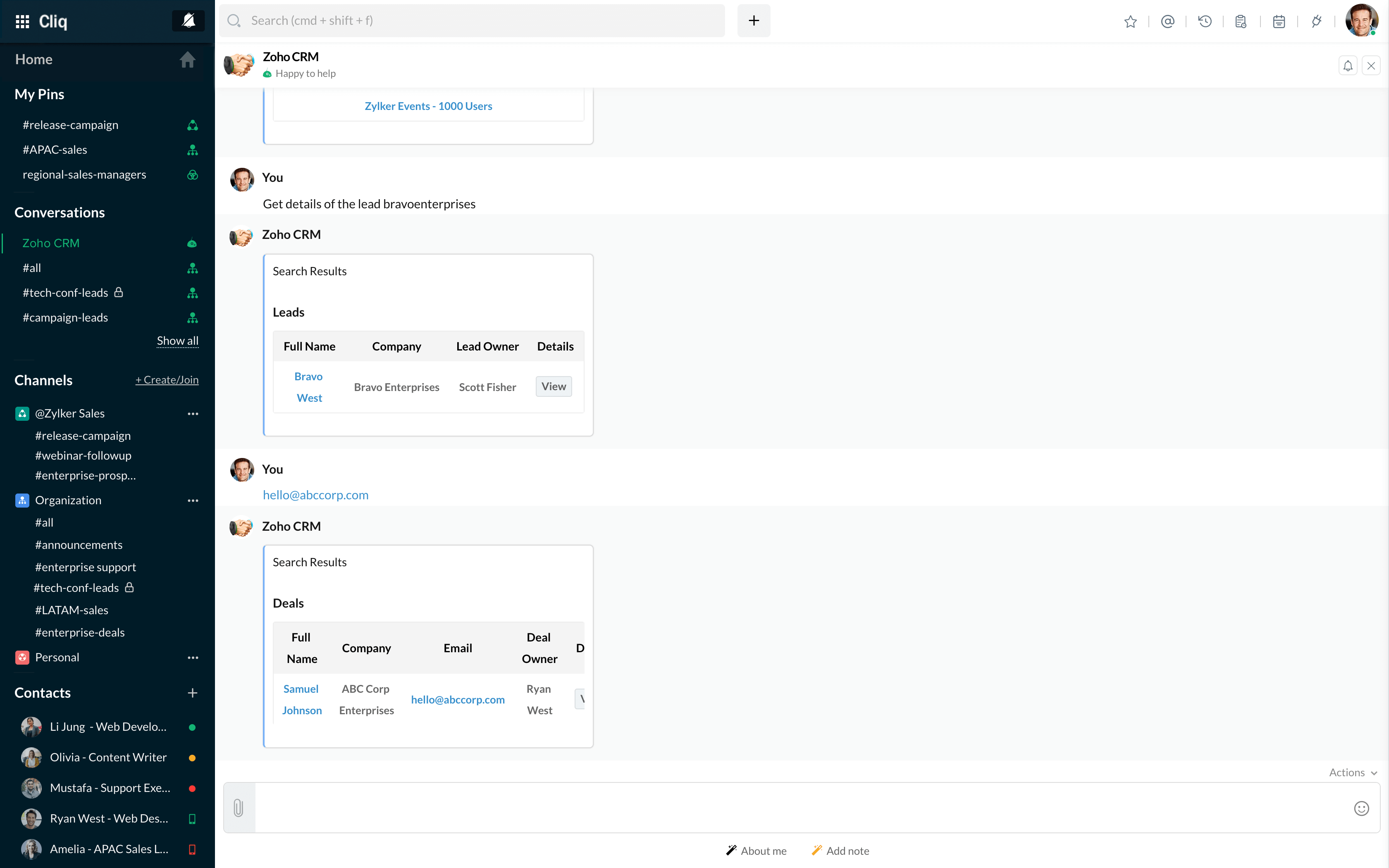 If all you want is a simple turn-key solution, you can't do much better than Zoho CRM. Although there is a lot of customization and initial setup, it is a good option for tech novices. It integrates well with google and offers an intuitive design and many features. Comparing Zoho and Salesforce, the former is also less expensive and provides a free option.
7. Close
Suppose you possess the tech know-how; Close is a great option giving sales automation tools to boost your B2B lead generation and sales process. The software has an intuitive dashboard and automatic calling and logging to help you track the success of your sales process.
There is also a built-in email marketing function that you can automate to send a follow-up email and save time.
8. Agile CRM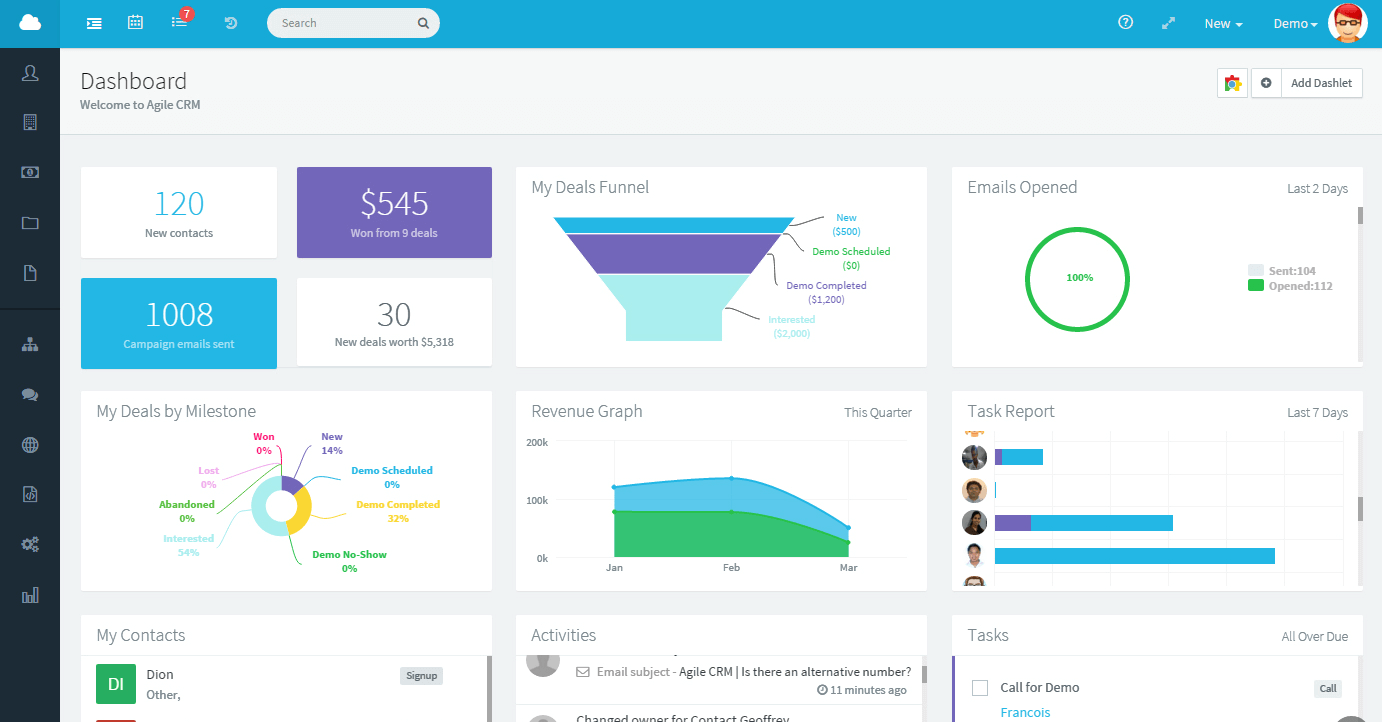 It is an excellent option for small businesses based in the cloud. It focuses on integrating your sales effort with marketing, social media, and other parts of your outreach to customers.
Small businesses have to deal with a tight budget, so the Agile CRM offers a free option for ten users. You will have to go for the enterprise version if you want to have all the bells and whistles, including email and phone support and more than 50 plugins and integrations.
9. Bitrix24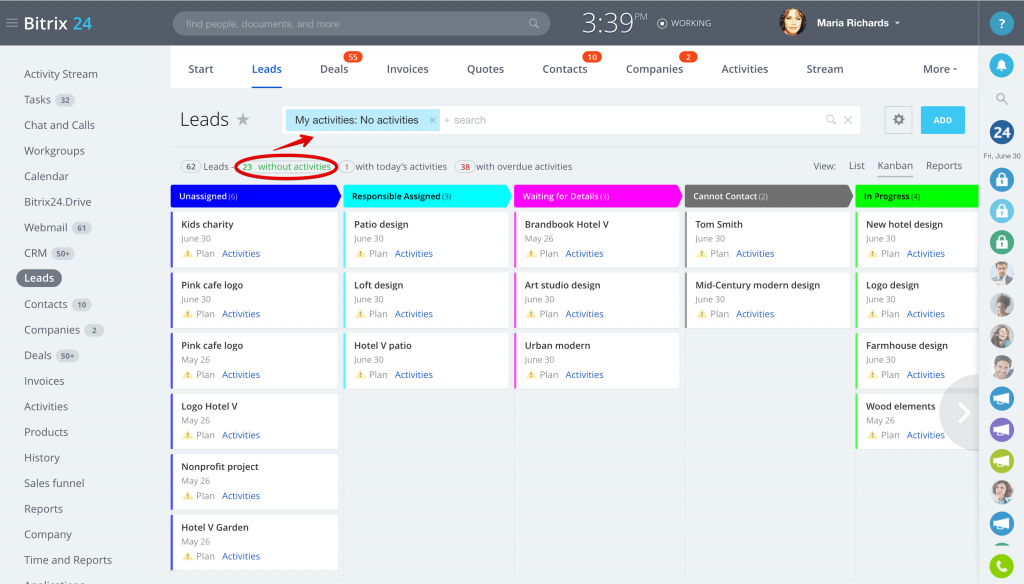 If you are looking for a software option that fits your business like a glove, you want something customizable, and there is no better way to do that than with an open-source platform like Bitrix24.
It has got quite a steep learning curve, and you will pay a lot for the premium packages, but the vast majority of its features are free, with many powerful tools of choice. Bitrix24 stands out because it is a choice for DRM for small and medium-sized businesses.
10. Microsoft Dynamics 365 for sales
It helps build customer relations, maintain accounts, track contacts, nurture sales leads, and create sales collateral. It is made up of a mobile app and offers cloud and self-hosted deployment. It serves small, medium, and large organizations across industries, including retail, manufacturing, and healthcare. It is a common alternative to Salesforce.
This software empowers users through native integration, data sync with Microsoft Office 365 applications, and impressive CRM capabilities. It adds value to sales professionals with sales quotations, partner relationship management (PRM), reporting sales forecasting, workflow automation, customization, and much more. The system you build with artificial intelligence helps unify solutions and aggregate data from LinkedIn Sales Navigator, Office 365, and other platforms.
11. Oracle CX Sales
It is one of the biggest competitors of Salesforce and a cloud-based platform that provides managers with big picture data and helps sellers master buyer signals. It offers real-time customer intelligence, derives data from finance and HR software for generating quotes, and manages territories and compensation.
Its extensive capabilities include managing leads, accounts, contacts, opportunities, assets, activities, assessments, and a customer view that is 360 degrees. You get quotas, territories, subscription management, incentive compensation management, customer data, and partner relationship management on a more advanced level—B2B customer service and eCommerce functionality.
In conclusion, Salesforce competitors or alternatives are necessary for businesses that want to go by a budget because of how giant Salesforce is in terms of its services. There are also things to consider then you want to go for Salesforce competitors. Whatever the case may be, be rest assured that the alternatives to Salesforce suit your needs as they offer outstanding features to help your business.
You may also like to read our latest article, Top 12 Zendesk suite competitors to use in 2022.