Samsung is set to host its first major Unpacked 2022 event in a few hours – the Galaxy Unpacked 2022 – via live stream on 9 February. While there's been buzz and heightened anticipation around this event, there's little to no certainty about what the company will be announcing. But you can be sure that Samsung will use this event as a catapult to launch and promote its new Samsung Galaxy S22 and Galaxy S22 Ultra.
Before now, there have been several leaks associated with the Galaxy S22 flagship phone series. While some rumors may be true, others might be wishful thinking. To this effect, we are holding onto our hats to see which stories are real once the event gets underway. And with a few hours between now and the launch, newer rumors are beginning to emerge. Talk about last-minute excitement!
The new Samsung S22 series is here upon us, and by all means, the three phones are handy monsters. Considered an upgrade to the moderately performing Galaxy S21 series, you can expect to see significant improvements on this new model. These new expensive toys have been rumored to have new chipsets, improved cameras, excellent graphics, and exquisite display screens. Even with this, the audience keeps searching for more leaks every day! We can all agree that we are expecting three new devices: the Galaxy S22, the Galaxy S22+, and the Galaxy S22 Ultra.
Related article: Clickbank Affiliate Marketing for Beginners in 2022 [A Step by Step Guide].
Unboxing the Samsung S22 Ultra
The new Galaxy S22 Ultra is set to be the company's outright replacement for the Galaxy Note and comes with its own integrated S Pen with faster performance. This super-grade premium phone is rumored to come with a Gorilla Glass Victus protected 6.8-inch Dynamic AMOLED curved display with a variable refresh rate around 1-120Hz. Your Samsung S22 Ultra will have either Exynos 2200 SoC or a Snapdragon 8 Gen 1 chipset, depending on your location. With the Exynos 2200 SoC, users have the chance to use 8k video recording up to 60 frames per second and clear AMD RDNA 2 graphics with ray-tracing capabilities. Regardless, both are manufactured by Samsung Foundry using its proprietary 4 nm process node.
One major change in the design of the S22 Ultra is the absence of a dedicated camera island. Instead, Samsung opts for a more vintage, less imposing camera design. Again, from the leaked images, the Galaxy S22 Ultra still uses a slightly curved display. This info throws out the rumors that Samsung will be going for an all-flat screen this time around. The Galaxy S22 Ultra appears to have a slightly more curved display than the older Galaxy S21 Ultra.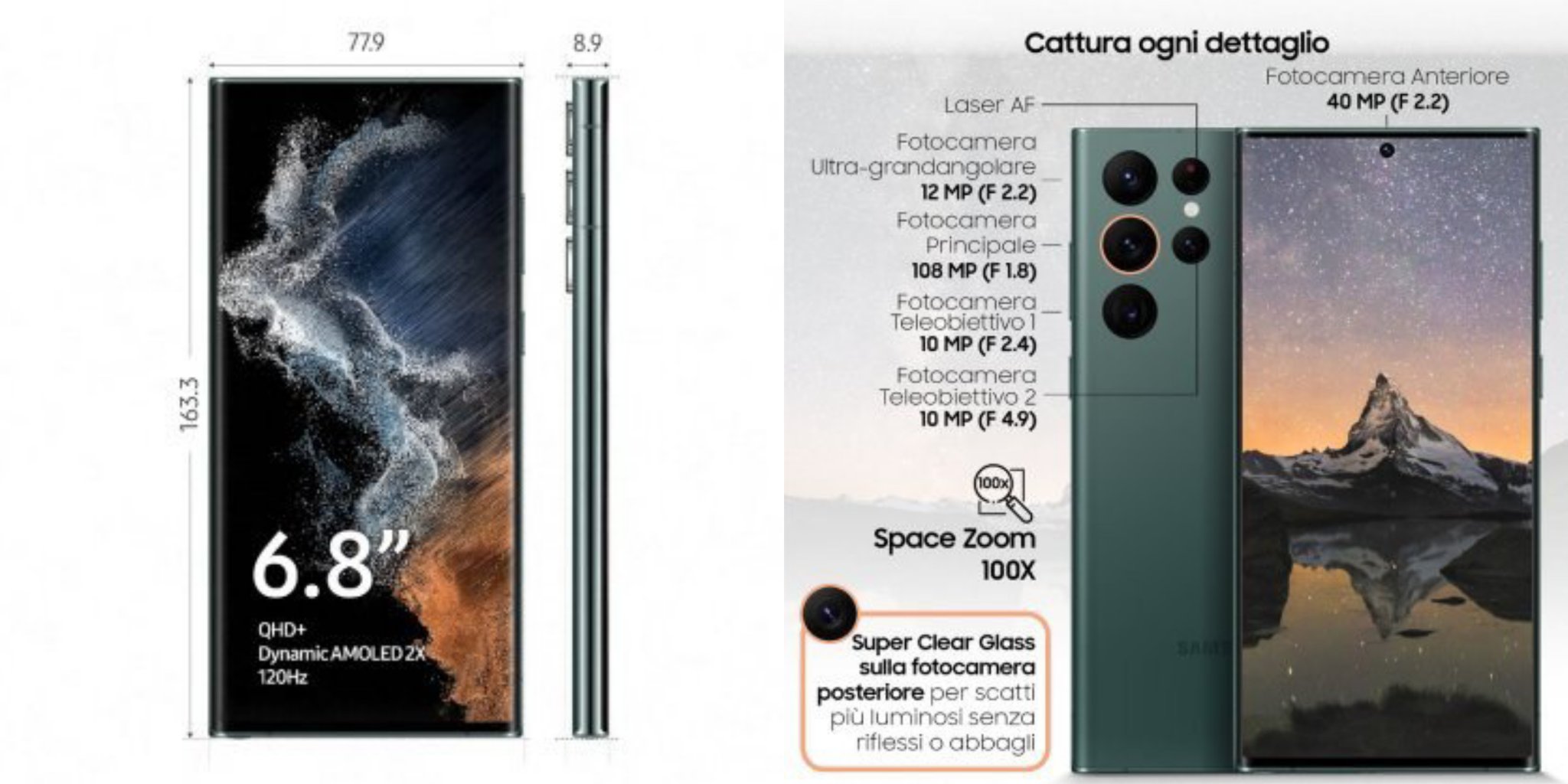 Camera
This monster of a phone features a quad-camera setup on its back with a "P-shaped" camera array. Its primary camera is powered by a 108MP sensor, while the ultra-wide lens uses a 12MP camera sensor to function. Its two telephoto lenses both use a pair of 10MP camera sensors. These lenses help to reduce reflection and glare in photos taken with the primary camera. And to further sweeten the deal, there is a front-facing camera that works on a 40MP sensor.
Memory and Storage
The Samsung S22 Ultra comes in various configurations, making it appealing to a wide range of users. Irrespective of your activities on a mobile device, you are sure to get a version that serves your needs. Its configuration options include 8 or 12 GB RAM and 128/256/512 GB storage. There are also speculations for a special limited market edition that features a 1 TB memory. Again, Samsung is dropping the microSD card slot, and the Galaxy S22 Ultra won't have this feature.
Battery and IP rating
The Samsung S22 Ultra comes packed with a 5000mAh battery ensuring you enjoy the use of your phone. The device is rated 68 on the IP rating for dust and water protection, which is not surprising as many quality smartphones have index ratings of IP67 or IP68. A quick note is never to mistake water protection for water-resistant. While this phone is protected against water, fully immersing it for more than 30 minutes might damage it. 
Samsung Galaxy S22 and S22 Ultra Pricing
The Galaxy S22 Ultra is alleged to be available in White, Green, Black, and Burgundy. While there is no concrete evidence regarding pricing, rumor has it that Samsung Galaxy S22 variants should have a price range of:
€1499 for 8 GB RAM/128 GB storage

$1599 for 12 GB RAM/256 GB storage

And $1699 for 12 GB RAM/512 GB storage
Note: For the Samsung Galaxy S22 Ultra, there are speculations that it will cost up to $1998.
Samsung has left a window up through the day of the Unpacked event to allow potential buyers to reserve a pre-order. This pre-order will net you $50 in-store credit, which you can use to purchase your device's accessories. Samsung Unpack 2022 will begin at 10 am ET and air live on Samsung's YouTube page.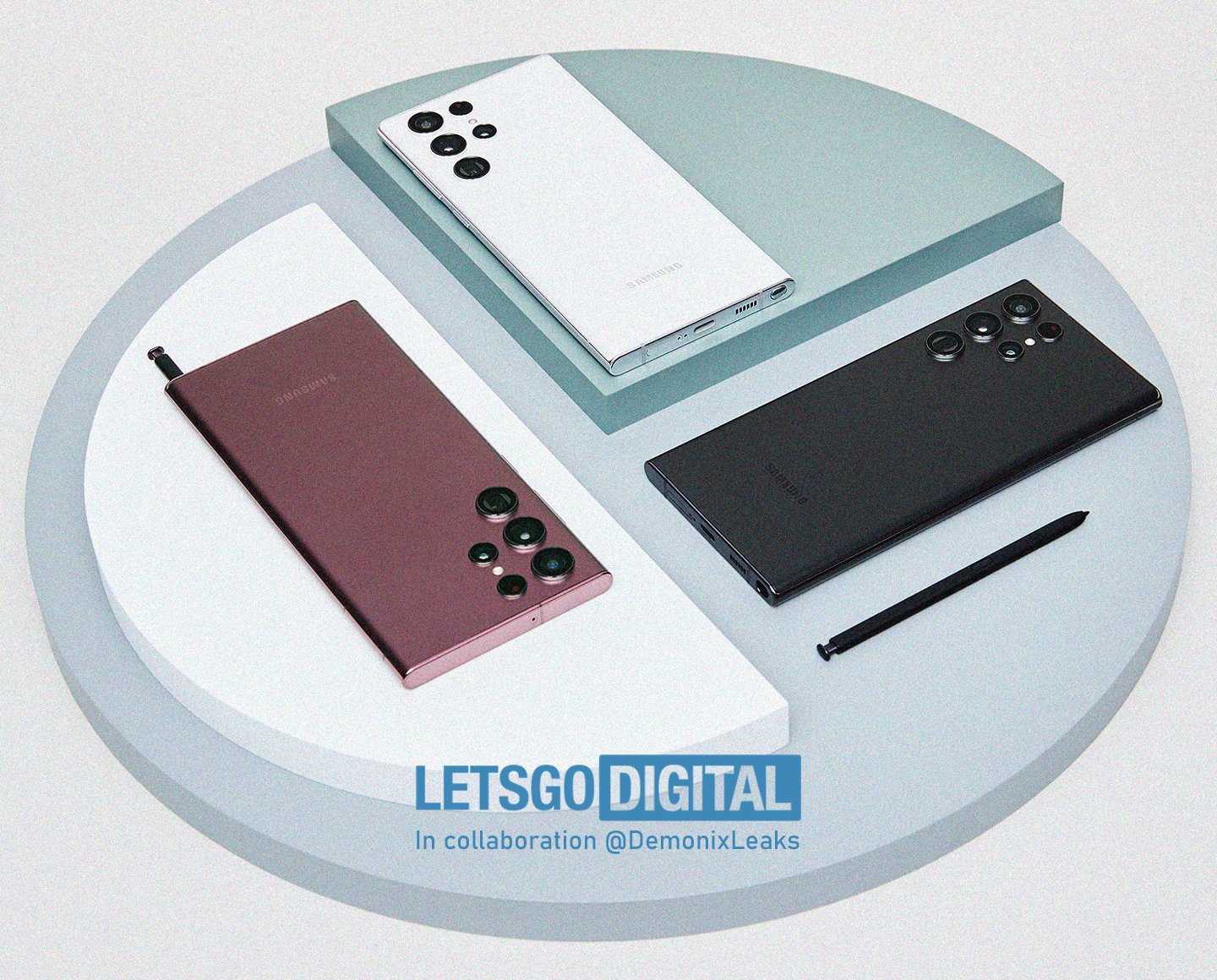 Other details…
The Samsung S22 Ultra has its speaker at the bottom, more like the way we are accustomed to it by now. Next to the speaker is a type-C USB port for charging and a silo for its S-Pen. In terms of display, the new smartphone is said to have one of the brightest displays making it a direct competitor for the iPhone 13 Pro Max. Another rumored feature is that users will use the Galaxy S22 Ultra as their color palette for the Galaxy Tab S8 Ultra when drawing with the S Pen; this is a considerable advantage over the iPad Pro.
Conclusion
The smartphone market is always stiff with competition, and with the Apple iPhone 13 and Google Pixel 6 Pro, Samsung has its work cut out for it. Its new Galaxy S22 Ultra is a way of leveling the playing field and ensuring the competition does not leave it behind. While present information is still based on rumors, the S22 Ultra and the S22 series, in general, will have to wow users if it aims to make a grand entry.
Another exciting news from Samsung is its potential launch of the Galaxy Tab S8. Although there is no indication that this will happen at the Unpacked 2022 event, speculators say it might be soon. That said, we look forward to the Samsung Galaxy S22 Ultra!
You may also like to read our my latest article, Earn $65 Per Signup With Bluehost Affiliate Program.