The UniFi Controller is a wireless network management software stemming from Ubiquiti Networks. It lets you handle multiple networks by using a web browser. It enables users of hardware devices to manage them remotely and access a wide range of diagnostic and visual tools.
Built by Ubiquiti networks, it is a prominent wireless data communication and broadband product manufacturer. This app can manage various devices seen in your home, business, or organization. 
Because it focuses on more oversized enterprise products and networks, this app is ready to take on many devices offering optimal services to enable data monitoring, security, analytics, reports, etc.
It has a sleek modern interface with six main tab icons seen on the left and a large data diagnostic and configuration area that takes most of the app area.
The app's visual style focuses on dark background and light grey text and graphic elements with bright green colors and highlights some information that is the most important at a glance.
Although this app is not the best for novices in networking management, its interface, which is quite intuitive, can help to be easily used to handle several different parameters of the network. It is an app suited for more extensive networks with in-depth support for admin settings, domain management, and the necessary tools to bring about maximum performance from your network and Ubiquiti devices.
It has a comprehensive statistics tab that shows network traffic details for every device, the client, the domain, and more.
You can use the UniFi controller for free through an initial trial service. Afterward, users will have to pay to have a permanent license.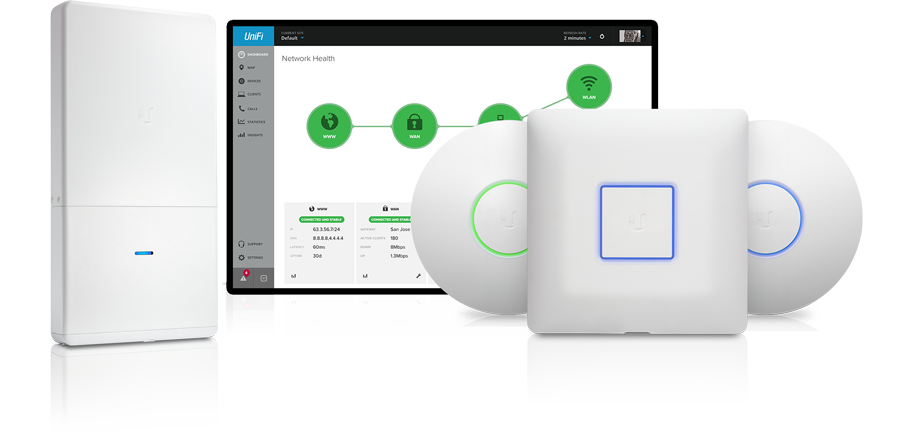 System requirements for UniFi controller download
It works on operating systems like Linux, Mac OS, and Microsoft windows. It works with the web browsers installed on your computers like Mozilla Firefox, Google Chrome, and Microsoft Edge.
Network requirements for UniFi controller download
It requires a DHCP network to obtain an IP address after deployment. There is the need to have a computer with the unifi controller software connected to the same layer network.
RELATED ARTICLE: Social Networking Service (SNS): What it Means and All You Need to Know.
Installing the software
You can install the software for the UniFi controller only once when you create an UniFi network. You can include UniFi apps at any time through the controller's interface. You do not necessarily need to go through the software installation process when you add another UniFi AP.
You can download the UniFi Controller software from the Ubiquiti network website.
For Mac users to download the UniFi controller, carry out the following:
Launch the UniFi.pkg application

Click 

Continue, 

then follow the instructions on the screen to install the software.

Click on 

Go> Applications

, then double click on the UniFi icon.
For Windows OS users, you can also install the UniFi controller.
To install UniFi Controller, do the following:
Launch 

UniFi installer

Click 

Install

If your computer does not have java 1.6 and above installed, you will have to install it. Click on 

Install

 to continue.

Click 

Next.

Ensure the 

Start 

option 

Start UniFi Controller; after checking the installation

, click on 

Finish

.
How to configure the UniFi Controller Software
The UniFi controller software can be configured by following steps and procedures.
You can do it through the following:
When the UniFi Controller software starts, click on 

Launch a Browser 

to manage the wireless network.

Choose your language and country. As an alternative, you can restore from a previous backup to make use of a file with backup settings, then click 

Next

.

Select the devices that you wish to configure, then click 

Next

.

The UniFi installation wizard will establish a secure primary network for your devices.

Carry out the following steps:

Input the name of the wireless network in the secure SSID field.

Fill in a passphrase for your primary network in the security key field.

Select 

Enable Guest Access

 and fill a guest network name in the guest SSID field to allow guest access.

Click 

Next

.
Enter an admin name and password in the Admin name and password field, respectively, when you want to access the management interface. Confirm your password from the area to confirm the password, then click Next.
Go over your settings, then click Finish to save the settings. If you like, you can click Back to make changes. Once the wizard finishes, the browser will redirect to the management interface.
In conclusion, the UniFi controller software lets you handle multiple wireless networks through a web browser. It manages Ubiquiti hardware devices remotely through a range of visualization tools to ensure optimality in functionality and overall performance on a broader scale.
You may also like to read our latest article, How to Perform System Granularity Easily in 3 Steps.